PRAGUE, August 1, 2006 (RFE/RL) -- The names, gender, and other details of the 12 refugees who returned to Uzbekistan are unknown.
Andrea Berg, who heads Human Rights Watch's (HRW) office in Tashkent, tells RFE/RL that she has not been able to learn anything about the 12 since they returned.
"The quick and secretive nature of their return raises suspicions." Amnesty has "concerns about ongoing pressure on the other Uzbeks now in the country."
Current Status Unknown
"I don't know anything about them. I just can tell you that when it happened, big articles were posted on the websites of the [Uzbek] government and the Foreign Ministry," she said. "They wrote in red letters that 12 people returned with the assistance of the [Uzbek] embassy and so on. Half a day later, all articles disappeared from the Internet."
Berg adds that she cannot contact anyone in Andijon as there are virtually no human rights activists or independent journalists remaining in the city. "If I travel there and contact ordinary people, I put them at great risk," she says.
RFE/RL spoke to an Uzbek refugee who has lived in southern Kyrgyzstan since he fled Andijon after the bloody events of May 13, 2005, in which hundreds of people are reported to have been killed.
The man asks to be introduced as Maqsud. He tells RFE/RL that he personally knows five women and two men from the 12 returnees.
Maqsud, who has regular contact with his relatives in Andijon, says they tell him that the returnees' family and neighbors were happy to see them when they returned.
Initial Reports Positive
"As I heard, there was joy in our neighborhood when they came back," he said. "There were no difficulties. I talked to people who went to see them. There was not a single word about [their past]. Especially [the returned] women were happy."
Maqsud says that the husbands of the four female returnees have been in jail in Uzbekistan. He says the women might have another reason to be happy.
"[Their husbands] were arrested after the events of the 13th [of May 2005]," he added. "They have not been tried or sentenced yet. But there is information [that family members] received that says they will be released by September."
Maqsud also says that some of the refugees' children who were left in Andijon were often too poor to attend school, and didn't receive a social allowance from the government. Now, he says, Uzbek authorities have resumed the monthly payments and some of the kids can now go to school.
Such information, if accurate, could affect the decisions of other refugees abroad. Maqsud, who was recently granted UN refugee status and is awaiting resettlement in a third country, tells RFE/RL that he has begun having second thoughts about going to Europe.
Many Happy Returns?
Meanwhile, some of the other Andijon refugees also seem keen to follow the 12.
On June 27, a group of Uzbek refugees in Germany wrote an open letter to Uzbek President Islam Karimov saying they want to return home.
One of the refugees that has resettled in the United States told RFE/RL that many Uzbeks are determined to return to Andijon. At least 150 were resettled in the United States. "Some of [the ones that want to go back] are relatives of the 12. They are [already] buying presents for their close relatives left in Uzbekistan," he said, speaking on the condition of anonymity.
However, human rights groups and refugee officials are warning Uzbek refugees about the risk of returning.
Goran Debelnogich, a resettlement services coordinator for a refugee and immigration agency called the International Institute of Akron, deals with Andijon refugees in Ohio. He tells RFE/RL that the refugees are at risk if they return to their country of origin.
Uzbek Officials' Assurance
"We only heard that there are family members from Uzbekistan telling them that things are good -- I guess, on the advice of the Uzbek government -- that they should return home," he said. "Usually, the governments -- because of public perception -- they probably would want them [to come] back. The thing is that we don't know what the consequences are [once they return]. We are not sure if [these people telling them to come back]...is on the instructions of the government or just families wanting them back. Is it safe, secure?"
HRW's Andrea Berg says some refugees have serious concerns about their family members left behind in Uzbekistan -- just like the four women returnees whose husbands are in prison.
"When someone sits in a prison [in Uzbekistan], he or she needs help from relatives because every month prisoners are allowed to receive 12 kilograms of clothing, food, and hygienic products like toothpaste," he said. "If relatives are abroad, there is no one to bring these things to prison, and an inmate is left with nothing. Many [refugees] are aware of this hard situation and therefore they want to return."
Debelnogich says that the U.S. authorities -- through the embassy in Tashkent -- are helping Uzbeks bring their family members to the United States. He also says that Uzbeks in the United States as well as their relatives in Andijon should feel secure about the process as Uzbek authorities are not a part of it.
The Uzbeks who fled Andijon first sought refuge in neighboring Kyrgyzstan and, with the assistance of the UN refugee agency, 439 of them were flown to Romania and subsequently given political asylum in the United States, Canada, Australia, and various European countries.
Uzbek authorities wanted them sent back from Kyrgyzstan, saying some of them had committed grave crimes or terrorist acts in Uzbekistan. Human rights groups said the refugees were likely to face prosecution and possibly torture if they returned home.
The Uzbek Embassy in Washington assisted the 12 Uzbeks in returning home. Russia's Regnum news agency quoted an unnamed source at the Uzbek Foreign Ministry as saying on July 17 that Uzbek authorities considered the refugees' request to return home and concluded that those people were not involved in "terrorist attacks in Andijon." The statement said: "It was proved that they were deceived and taken outside the country."
Amnesty International's Maureen Greenwood-Basken wrote to RFE/RL last week saying that "the quick and secretive nature of their return raises suspicions." She added that Amnesty has "concerns about ongoing pressure on the other Uzbeks now in the country."
Faces And Voices
WE WERE THERE:
RFE/RL correspondent Gulnoza Saidazimova visited a group Andijon refugees in the Czech town of Straz pod Ralskem and spoke to them about their recollections of the May 2005 violence and their lives since. (Photographs by G. Saidazimova)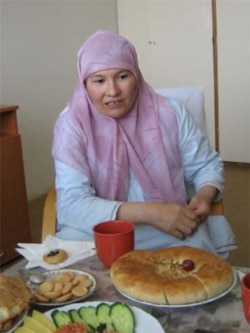 ZUHRA, aged 33: "On 13 May, I learned what APCs [armoured personnel carriers] and kalashnikovs were."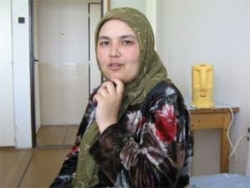 MOMINA, aged 29: "I called my parents twice from here. The second time they said: 'We are scared to talk to you. Our neighbor also received a phone call [from a relative who was granted asylum abroad]. Then the police came and beat him up.'"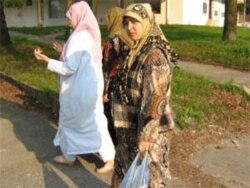 ODINA, aged 34: "I saw a woman with bullet wound in the back. From behind, we could see her hearting. It was beating. She was begging: 'Call the doctor. I don't want to die.' Later, in Kyrgyzstan, we heard she had died. "




THE COMPLETE STORY: A dedicated webpage bringing together all of RFE/RL's coverage of the events in Andijon, Uzbekistan, in May 2005 and their continuing repercussions.
CHRONOLOGY
For an annotated timeline of the Andijon events and their repercussions, click here.