Flood Leaves Up To 10,000 North Koreans Dead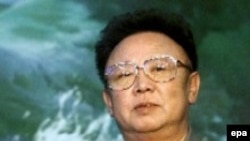 Kim Jong-il, leader of North Korea (epa) August 2, 2006 -- A South Korean humanitarian group says up to 10,000 North Koreans are believed dead or missing in what North Korea's official media is describing as the worst flooding in a century.
The death toll given by the Good Friends group is much higher than figures mentioned by the North Korean authorities.
The group also says malaria is now spreading in parts of the country following two weeks of heavy rain.
(AFP, AP)