Reports say Israel apparently carried out at least four air strikes in the Dahieh suburb of Beirut early this morning -- the first such Israeli raids in the area in days.

Israeli warplanes were also reported to have attacked targets near Lebanon's northern border with Syria, and in the eastern Bekaa Valley overnight.
Lebanese Prime Minister Fuad Siniora said in a videotaped message released today that Israel's three-week-old offensive has killed more than 900 people and wounded 3,000, while displacing one-quarter of his country's 4 million people.

In southern Lebanon, the Israeli military reported that one Israeli soldier was killed and four others wounded in fighting with Hizballah guerrillas in Ayt a-Shab. The death brings to 37 the number of Israeli soldiers reported killed in more than three weeks of fighting.

Hizballah attacked Israel with a record barrage of missiles on August 2, firing more than 230 rockets that killed at least one man.

Meanwhile, Israeli forces reportedly killed at least five Palestinians, including a child, in the southern Gaza Strip today. Some 15 others were reported wounded in air strikes.

Israel began its offensive in Gaza in late June after militants seized an Israeli soldier. Today, troops reportedly carried out house-to-house searches in the Rafah area.

(compiled from agency reports)

The Middle East Crisis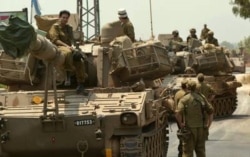 Israeli tanks poised on the border with Lebanon on August 2 (epa)
CLASH OF ARMS:
Since mid-July, Israel has been battling Hizballah guerrillas in southern Lebanon and carrying out punishing air strikes throughout the country. International efforts to broker a cease-fire have met with one obstacle after another, as civilian casualties mount and a humanitarian crisis unfolds. Since Hizballah is closely supported by Syria and Iran, the conflict threatens constantly to develop into a regional conflagration....
(more)
RELATED ARTICLES
Israel Steps Up Assault Despite Hizballah Warning
'We The People Are The Big Losers'
Iranians 'Volunteer' To Help Hizballah
Lebanon Cancels Talks After Bloody Qana Attack
The World Searches For An Elusive Solution
Analyst Says 'U.S. Needs To Talk To Syria, Iran'