The coastal highway leading north of Beirut was effectively cut off after Israeli jets bombed four bridges. Warplanes also resumed air strikes in southern Beirut suburbs, where hours earlier they had dropped leaflets calling on residents to leave.
Lebanese sources say at least two civilians and one Lebanese soldier were killed in the air raids.
Al-Arabiyah television reported that three Israeli soldiers were killed in southern Lebanon.
Hizballah leader Hassan Nasrallah on August 3 offered to stop rocket attacks on Israel in return for a halt to Israeli air strikes. But Nasrallah threatened to attack the Israeli city of Tel Aviv if Israel bombs central Beirut.
"If you bomb our capital, we will bomb the capital [Tel Aviv] of your oppressive state," Nasrallah said. "If you strike Beirut, the Islamic resistance will strike Tel Aviv, and it is able to do so with the help of God."
In Moscow, meanwhile, Lebanon's parliamentary majority leader, Saad Hariri, appealed to Russia to push Israel for an immediate cease-fire.
And in Iraq, thousands of Shi'a gathered in Baghdad today to rally in support of Hizballah. Many of them arrived in the capital from southern provinces, responding to a call from radical cleric Muqtada al-Sadr.
The area where the rally is to take place in Baghdad's Al-Sadr City neighbourhood was sealed off by Iraqi police and al-Sadr's Imam Al-Mahdi Army militia. Cars were banned from entering to prevent possible suicide bombings.
(compiled from agency reports)
The Middle East Crisis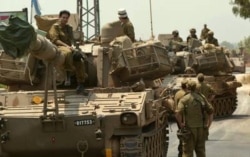 Israeli tanks poised on the border with Lebanon on August 2 (epa)
CLASH OF ARMS:
Since mid-July, Israel has been battling Hizballah guerrillas in southern Lebanon and carrying out punishing air strikes throughout the country. International efforts to broker a cease-fire have met with one obstacle after another, as civilian casualties mount and a humanitarian crisis unfolds. Since Hizballah is closely supported by Syria and Iran, the conflict threatens constantly to develop into a regional conflagration....
(more)
RELATED ARTICLES
Israel Steps Up Assault Despite Hizballah Warning
'We The People Are The Big Losers'
Iranians 'Volunteer' To Help Hizballah
Lebanon Cancels Talks After Bloody Qana Attack
The World Searches For An Elusive Solution
Analyst Says 'U.S. Needs To Talk To Syria, Iran'