Welch said Washington wants to end the fighting and "put behind us forever the terrible violence of the last three weeks," and he stressed the backing of the U.S. administration for the Lebanese people.
"Those who left their homes to escape the violence must be able to return to their towns and villages as soon as possible," he said. "With the beginning of the school year approaching, the children of Lebanon must be able to start school again with their classmates in their homes. And Lebanon, which has always been such an important gateway to the whole Middle East, must be reconnected to the outside world, so that it has access to food, fuel, medicine, and supplies."
Welch also held talks with parliament speaker Nabih Berri, who is considered close to Hizballah.
The visit is the first to Beirut by a U.S. official after Secretary of State Condoleezza Rice was forced earlier this week to cancel a visit after Israel bombed the Lebanese village of Qana, killing dozens of civilians.
(AFP, dpa)
The Middle East Crisis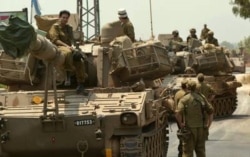 Israeli tanks poised on the border with Lebanon on August 2 (epa)
CLASH OF ARMS:
Since mid-July, Israel has been battling Hizballah guerrillas in southern Lebanon and carrying out punishing air strikes throughout the country. International efforts to broker a cease-fire have met with one obstacle after another, as civilian casualties mount and a humanitarian crisis unfolds. Since Hizballah is closely supported by Syria and Iran, the conflict threatens constantly to develop into a regional conflagration....
(more)
RELATED ARTICLES
Israel Steps Up Assault Despite Hizballah Warning
'We The People Are The Big Losers'
Iranians 'Volunteer' To Help Hizballah
Lebanon Cancels Talks After Bloody Qana Attack
The World Searches For An Elusive Solution
Analyst Says 'U.S. Needs To Talk To Syria, Iran'