All of the confirmed fatalities were reservist soldiers killed by one rocket that hit the northern village of Kfar Giladi.
Witnesses
said the rocket barrage continued for more than 15 minutes. Two houses
were reportedly hit directly by rockets. Israel's Zaka rescue service
says at least eight people were feared killed.
Meanwhile,
Israeli forces and Hizballah fighters continue to battle in southern
Lebanon, with five people reported killed in an Israeli air strike in
the village of Ansar.
Israel's military announced that two reserve soldiers were killed in fighting with Hizballah.
Also
today, Israel's military said that its forces have captured a man
in Lebanon who was involved in the July 12 kidnapping of two Israeli
soldiers, which sparked Israel's campaign against Hizballah. It was not
immediately clear when the man was detained.
Meanwhile, on the
diplomatic front, Lebanon's government has rejected as inadequate a
draft UN Security Council resolution aimed at ending the conflict
between Hizballah and Israel.
Beirut says the document lacks a call for Israel to withdraw its troops from Lebanon.
Also,
a UN spokesman says three Chinese peacekeepers were wounded today in an
exchange of fire between Israeli troops and Hizballah guerrillas in
southern Lebanon. The UN has opened an inquiry into the incident.
A Chinese peacekeeper was killed last month in an Israeli aerial bombing raid, which led to a strong protest from Beijing.
(compiled from agency reports)
The Middle East Crisis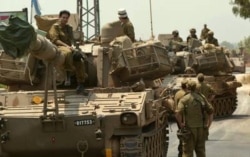 Israeli tanks poised on the border with Lebanon on August 2 (epa)
CLASH OF ARMS:
Since mid-July, Israel has been battling Hizballah guerrillas in southern Lebanon and carrying out punishing air strikes throughout the country. International efforts to broker a cease-fire have met with one obstacle after another, as civilian casualties mount and a humanitarian crisis unfolds. Since Hizballah is closely supported by Syria and Iran, the conflict threatens constantly to develop into a regional conflagration....
(more)
RELATED ARTICLES
Israel Steps Up Assault Despite Hizballah Warning
'We The People Are The Big Losers'
Iranians 'Volunteer' To Help Hizballah
Lebanon Cancels Talks After Bloody Qana Attack
The World Searches For An Elusive Solution
Analyst Says 'U.S. Needs To Talk To Syria, Iran'