PRAGUE, August 7, 2006 (RFE/RL) -- There will be little talk of colored revolutions in Georgia this week. The euphoria that swept the young team of Georgian ministers when the Orange Revolution triumphed in Ukraine in January 2005 has all but dissipated.
For a few heady months, Georgian President Mikheil Saakashvili saw himself -- and Georgia's own Rose Revolution -- as the catalyst for change throughout the CIS. Ukraine was followed by Kyrgyzstan and perhaps Saakashvili could imagine a region ruled by presidents fashioned in his own image.
Now it's time for a reality check.
Instead of Yuliya Tymoshenko, Ukraine has Viktor Yanukovych.
Regional Alliances
But how serious a blow is this to the proponents of democratic change? Salome Zurabishvili was foreign minister of Georgia at the time of the Orange Revolution and responsible for forging a strong strategic alliance with the new democratic Ukraine.
"This is bad for Georgia from the point of view that Russia will conclude that these revolutions are not irreversible, and that with a little help it is possible to reverse the process," Zurabishvili said. "So all of Georgia's efforts at this time should be directed at assuring the Georgian people, Russia, and international society that this process in Georgia is irreversible."
But while Ukraine may no longer be so steadfast an ally of Georgia in the face of Russian pressure, some see here a triumph for Ukrainian democracy -- and, by association, the values that both the Orange and Rose revolutions are built on. Cory Welt, the deputy director of the Russia and Eurasia Program at the Center for International and Strategic Studies in Washington, said that what "we have seen in Ukraine is the most democratic outcome that we could have envisioned."
"So, in that regard it doesn't change anything. What it does change is the fact that they had linked the democracy agenda to this pro-Western agenda. And I think nobody had anticipated that in Ukraine those wouldn't necessarily go together," he said.
Erkin Alymbekov takes a similar view. The deputy speaker of the Kyrgyz parliament told RFE/RL's Radio Azattyk that last week's events in Ukraine had been a triumph of common sense.
"About half the population of Ukraine is supporting Yanukovych, and his political stance is very popular there. Yushchenko -- who did not play a game around the colored revolutions, and who put his personal, patriotic, and presidential duties higher than ordinary ambition in order to deal with the political crisis, who put forward Yanukovych as the prime minister of the coalition government -- this, I suppose, is the fair and right stance," Alymbekov said.
Indeed, as far as Kyrgyzstan is concerned, said Martha Brill Olcott -- a senior associate with the Russian and Eurasian Program at the Carnegie Endowment for International Peace in Washington, D.C. -- the reality is that little will change.
"I don't think it will affect Kyrgyzstan honestly except that it will make its foreign policy easier -- just because their foreign policy is closely oriented to Russia," Olcott said.
Problems In Central Asia
Indeed, there are few in Kyrgyzstan likely to mourn the fading of the Orange Revolution. Any hopes harbored by democratic reformers that the so-called Tulip Revolution would become a model for democratic change in Central Asia have so far proved premature.
In fact, if Olcott is correct, it is one of the more authoritarian regimes of the region that may have more cause for concern.
"Ironically, Kazakhstan may have more problems. I mean Kazakhstan is one of those places that did build very explicit bridges to the new regime and Ukraine, and with the new government of Ukraine," Olcott said. "Kazakh-Ukrainian economic cooperation was pretty good before and I think they saw this as strengthening the free market in Ukraine and in Kazakhstan's interests."
Yet, here too "business as usual" seems the more likely outcome. Kazakhstan and Ukraine have a mutual interest in seeing business relations develop.
Konstantin Gabashvili, the chairman of the Georgian parliamentary Foreign Affairs Committee, takes heart too from the fact that Yushchenko still controls Ukrainian foreign policy and Yanukovych's commitment to continue democratic reforms.
"As for [Ukraine's] main political course, the main thing for us is that according to the document they signed, it shouldn't really change. Yushchenko guaranteed that the course would remain unchanged, and if anything happens, Yushchenko will react on that," Gabashvili said. "I can't say that the situation is easy in Ukraine, but it's not tragic and it is not worth giving any reaction but support the main course of Ukraine."
No tragedy but, for the moment at least, the end of the colored revolutions. Belarusian President Alyaksandr Lukashenka said in 2005 there will be no rose, orange, or banana revolutions in his country. This week he must feel time is on his side.
(RFE/RL's Georgian and Kyrgyz services, and Washington correspondent Julie A. Corwin, contributed to this report.)
Ukraine's Choice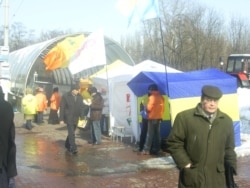 Campaign stands on a Kyiv street in ahead of the March 26 elections (RFE/RL)


RELOADED DEMOCRACY: On March 16, Ukrainian Ambassador to the United States OLEH SHAMSHUR held a briefing at RFE/RL's Washington office. Shamshur discussed the political and economic achievements of the last year and the political environment in the run-up to the legislative elections. "Many people would say it was a year lost," he said. "And I would categorically, even definitely, object to that. I think that it was a year not lost; it was a difficult year; it was the learning period when we were learning, or in some instances, relearning to act under the democratic rules and procedures. Some mistakes which were made were avoidable, some were hardly avoidable, but in any case it was very important period for Ukraine as a country, Ukraine as a new, or if you wish, rediscovered, reloaded democracy."
Listen to the complete presentation (about 60 minutes):
Real Audio Windows Media



Click on the image for background and archived articles about Ukraine's March 26 elections.




Click on the image to see RFE/RL's coverage of the Ukrainian elections in Ukrainian.