PRAGUE, August 7, 2006 (RFE/RL) -- The Interior Ministry says in its statement that the Center of Human Rights Defenders had no official permit and its activities were therefore "illegal."
But Shirin Ebadi, who leads the group, tells RFE/RL that her group has been operating in Iran legally.
Ebadi is a lawyer by profession. She says she thinks it is the Interior Ministry's statement that violates Iranian law.
"Under Article 26 of Iran's constitution, nongovernmental organizations, associations, and parties that observe the law and do not disrupt public order are free to [pursue] their activities," Ebadi says. "In that regard, I must say that the Center of Human Rights Defenders needs no permit because it is active in promoting human rights in Iran and defending the cases of political prisoners and prisoners of conscience without [charging any] fees."
Nevertheless, her group applied for a permit with the Interior Ministry four years ago. But Ebadi says that official assurances at the time proved worthless.
"They agreed with the establishment of the center. We showed our charter, [and] they said there were a few minor problems that we removed. It was decided that within 15 days they would give us a permit to operate. But it has been four years, and they haven't issued [such a permit]. I'm really sorry that they never gave us a permit -- either under the government of [former President] Mohammad Khatami or under the government of [current President] Mahmud Ahmadinejad."
Winning Friends
The Center of Human Rights Defenders was founded by Ebadi and several other leading Iranian rights advocates in 2002.
Other founders include Abdolfatah Soltani -- who was recently sentenced to five years in prison -- and Mohammad Ali Dadkhah, Mohammad Seyfzadeh, and Mohammad Sharif.
The French government awarded the center the French Human Rights Prize in December 2003.
The center has been critical in its reports and statements of human rights violations in Iran.
...And Enemies
In one of its latest statements, the Center of Human Rights Defenders called for an independent investigation into what it calls the "suspicious" death of jailed former student protest leader Akbar Mohammadi. Mohammadi died in prison on July 30 following a hunger strike.
The center has defended activists and dissidents -- including prominent journalist Akbar Ganji, who was freed in March after spending more than five years in jail.
The center also represented the family of slain Iranian Canadian photojournalist Zahra Kazemi, who died after her interrogation at Tehran's notorious Evin prison.
But Ebadi considers her group's biggest achievement to be its role in raising public awareness about human rights issue.
"We showed society the value of defending human rights," Ebadi says. "We told society that whoever works for human rights is not alone -- the Center of Human Rights Defenders will protect [them]."
Prosecutorial Zeal
Four years after the establishment of the center, the Interior Ministry has warned that its members could face "prosecution" if they continue their activities.
Fellow founder Soltani was recently sentenced to five years for allegedly disclosure of classified information and involvement in what authorities have termed "propaganda against the regime."
Soltani has denied the charges and accused officials of persecuting him over his rights activities.
The center's other members have reportedly also come under pressure in connection with their work.
Determined To Continue
Shirin Ebadi has complained in the past of death threats.
She tells RFE/RL that human rights work in Iran is not "easy," but she says her center is determined to continue its activities.
"All of our activities are in accordance with Iranian laws," Ebadi says. "There is no reason to suspend or stop them."
Ebadi says her group will pursue all legal channels to exercise its rights.
The Center of Human Rights Defenders is a member of the Paris-based International Federation of Human Rights.
Iran's official ban is likely to provoke condemnation among international human rights advocates, who have frequently targeted Iran for perceived abuses.
But there is little indication that officials in Tehran will be listening.
Women In Iran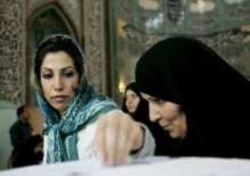 Women in Tehran (epa file photo)

CALLING FOR MORE RIGHTS: Although women played key roles in Iran's 1979 Islamic Revolution, the place of women in post-revolutionary society has been a vexing question. Iranian women have struggled to bring attention to their calls for greater rights in their country's rigid theocratic system, calls that have often clashed with the values proclaimed by conservatives in society. (more)
RELATED ARTICLES
Tehran Police Renew Campaign To Combat 'Un-Islamic' Dress
Iranian Peace Prize Laureate Shirin Ebadi On Women's Rights
Activists Concerned About Self-Immolation Of Iranian-Kurdish Women
The Younger Generation's 'Tehran Blues'
ARCHIVE
RFE/RL's coverage of Iran. RFE/RL's coverage of issues concerning women throughout our broadcast area.

SUBSCRIBE
For a regular review of civil-society developments throughout RFE/RL's broadcast region, subscribe to "RFE/RL (Un)Civil Societies."