Speaking in Tehran, Mottaki said the draft considers Lebanon responsible for starting the crisis while ignoring Beirut's demands for the withdrawal of Israeli forces.
Israeli officials say Iran is using Hizballah fighters in southern Lebanon to wage a proxy war against Israel.
Revising The Resolution
Meanwhile at the UN in New York, France is seeking changes to the draft resolution, which calls for an end to the fighting between Israel and Hizballah.
France reportedly wants to amend the draft to address concerns of the Lebanese government and Arab League foreign ministers. The move could further delay a vote by the UN Security Council.
U.S. officials have agreed to hear the Arab League foreign ministers addressing the UN Security Council later today about Lebanon's calls for an immediate Israeli withdrawal.
The Lebanese government says it will send 15,000 troops to its southern border region as soon as 10,000 Israeli soldiers are pulled out.
U.S. President George W. Bush said at his Texas ranch on August 7 that a UN resolution on ending the conflict is needed "as quickly as possible." But he says Washington does not want to create a vacuum that allows Hizballah to provoke instability.
Fighting Rages On
The Israeli Army today reported that antitank missiles fired by Hizballah militia forces killed a soldier and wounded five other troops in southern Lebanon.
The attack occurred near the town of Bint Jbeil, where three Israeli soldiers were killed in a clash with Hizballah on August 7.
In separate violence, at least 20 people reportedly were killed overnight by an Israeli air strike on a crowded area of Beirut's southern suburbs.
The attack came after Lebanese officials said 42 people were killed by Israeli attacks on villages across southern Lebanon on August 7.
The Next Phase
Israeli Defense Minister Amir Peretz said today that Israel will press ahead with its offensive against Hizballah and is poised to occupy more areas of southern Lebanon from which the militia's rockets are fired.
The AP quotes Peretz as saying he has asked the army to prepare for the next stage of the fighting.
Prime Minister Ehud Olmert said on August 7 that his government has imposed "no limits" on the offensive.
New UN Report On Qana
UN Secretary-General Kofi Annan has issued a new report saying that Israel's July 30 attack on the Lebanese town of Qana could be part of what he called "a pattern of violations of international law" in the Israel-Hezbollah war.
The preliminary report on the Qana attack -- which killed at least 28 civilians -- includes appeals by Annan for both Israel and Hizballah to respect international humanitarian law.
The Middle East Crisis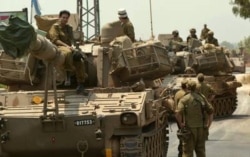 Israeli tanks poised on the border with Lebanon on August 2 (epa)
CLASH OF ARMS:
Since mid-July, Israel has been battling Hizballah guerrillas in southern Lebanon and carrying out punishing air strikes throughout the country. International efforts to broker a cease-fire have met with one obstacle after another, as civilian casualties mount and a humanitarian crisis unfolds. Since Hizballah is closely supported by Syria and Iran, the conflict threatens constantly to develop into a regional conflagration....
(more)
RELATED ARTICLES
Israel Steps Up Assault Despite Hizballah Warning
'We The People Are The Big Losers'
Iranians 'Volunteer' To Help Hizballah
Lebanon Cancels Talks After Bloody Qana Attack
The World Searches For An Elusive Solution
Analyst Says 'U.S. Needs To Talk To Syria, Iran'