Iraqi Premier Critical Of Attack On Al-Sadr Militia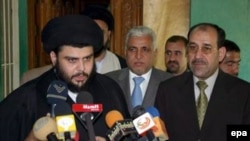 Prime Minister Nuri al-Maliki (right) with Muqtada al-Sadr in April (epa) August 8, 2006 -- Iraqi Prime Minister Nuri al-Maliki today criticized a joint U.S.-Iraqi raid in the Baghdad suburb of Al-Sadr City on August 6.
Al-Maliki said he did not authorize the assault, and described it as "unjustified."
The U.S. military said the operation targeted a death squad.
The raid sparked a gun battle with militiamen loyal to the radical Shi'ite cleric Muqtada al-Sadr, whose group is part of al-Maliki's coalition. At least three civilians were killed in the battle.
(AFP, AP)


SUBSCRIBE For weekly news and analysis on Iraq by e-mail,
subscribe to "RFE/RL Iraq Report."