As far back as October 2001, when I visited the Ain Al-Hilwah refugee camp, about a half-hour ride through treacherous mountain roads from the capital of Beirut, al-Makdah was looking forward to the day when his forces would once again be unleashed on Israel. He strutted through what clearly was his kingdom, openly celebrating the September 11, 2001, terrorist attack on the United States, and boasting of his cooperation with Hizballah and Al-Qaeda. In November 2005, al-Makdah warned in an interview with an Italian newspaper that his cadres of suicide bombers were readying for battle.
"Suicide bombers are our nuclear weapon," he told "L'Espresso" in November 2005, echoing what he told me years earlier when he described his trainees as "human bombs."
"I'm always developing my skills and practicing. There is always something more to learn. The training goes on all the time." -- Palestinian fighter
"Jihad and the resistance begins with the word, then with the sword, then with the stone, then with the gun, then with planting bombs, and then with transforming bodies into human bombs," he told me. "The last weapon is a weapon the Israelis can never have: suicide bombers."
While much of the world bemoans the killing of Lebanese civilians and the destruction of one of the most developed countries in the Middle East, the fighting raging in southern Lebanon is a dream come true for al-Makdah and his colleagues.
Preparing For War
Al-Makdah was known as commander of Palestinian guerrillas in southern Lebanon, where an estimated 360,000 Palestinian refugees had fled from the previous wars with Israel. He was a wanted man, sentenced to death in Jordan, where authorities accused him of being part of Al-Qaeda leader Osama Bin Laden's network and of involvement in the September 1, 2001, attack against the United States.
But inside the Ain Al-Hilwah refugee camp he was safe. Even Lebanese soldiers were afraid to enter al-Makdah's domain. That fact makes it difficult for many to contemplate Lebanese soldiers enforcing a cease-fire between Israel and Hizballah.
While al-Makdah did not confirm or deny his involvement in the September 11 attack when he spoke with me, he readily acknowledged his connection with Al-Qaeda, whose fighters were inside Ain Al-Hilwah as recently as November 2005, according to his interview with "L'Espresso."
'We Thank Whoever Contributes'
"Our goal is the resistance against the Israeli occupation," he told me in 2001. "And we thank whoever contributes to the struggle no matter where he is from or who he is."
Al-Makdah ran training camps for young men dedicated to jihad to liberate what they consider Palestinian land now under Israeli control. He even ran summer camps to train children as young as 5 years old in the techniques of suicide bombing.
"I held my first rifle when I was 10 years old," al-Makdah told me as we walked in the dusty camp, shooing chickens out of our path and shadowed by two security guards brandishing heavy machine guns. We stopped at what appeared to be a collection of hand-held rocket launchers guarded by a young man named Ali.
"He was 8 years old when he entered the movement," al-Makdah said with obvious pride, pointing to Ali, who smiled in confirmation.
Small Weapons
"When I was very young, my mother put me with what is known as the Ashvel.... It's a children's group," Ali explained. "We were trained with weapons, small weapons."
Today, Ali would be 22 years old. Then, at 17, he was still in training.
"I'm always developing my skills and practicing," he said. "There is always something more to learn. The training goes on all the time,"
Of course, both al-Makdah and Ali could now be dead, among those buried in the simmering ashes of southern Lebanon. But if they are still alive, they certainly are among the men sending rockets into Haifa and Tel Aviv or fighting Israelis soldiers on the ground in Lebanon.
And as Israeli or international forces once again contemplate occupation of southern Lebanon, they will surely face al-Makdah's "nuclear bombs," whether or not he is still directing them himself from Ain Al-Hilwah.
The Middle East Crisis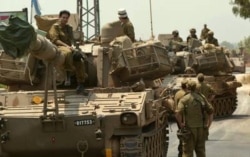 Israeli tanks poised on the border with Lebanon on August 2 (epa)
CLASH OF ARMS:
Since mid-July, Israel has been battling Hizballah guerrillas in southern Lebanon and carrying out punishing air strikes throughout the country. International efforts to broker a cease-fire have met with one obstacle after another, as civilian casualties mount and a humanitarian crisis unfolds. Since Hizballah is closely supported by Syria and Iran, the conflict threatens constantly to develop into a regional conflagration....
(more)
RELATED ARTICLES
Israel Steps Up Assault Despite Hizballah Warning
'We The People Are The Big Losers'
Iranians 'Volunteer' To Help Hizballah
Lebanon Cancels Talks After Bloody Qana Attack
The World Searches For An Elusive Solution
Analyst Says 'U.S. Needs To Talk To Syria, Iran'