Ambassador Dan Gillerman, speaking on Israel Radio, said he told Russia's UN ambassador, Vitaly Churkin, that a cease-fire of this type would only allow Hizballah to regroup and recover from Israel's bombardment.
Churkin earlier said Moscow decided to propose a 72-hour cease-fire because Security Council negotiations on a resolution calling for a permanent cease-fire had so far failed to result in agreement. He described the humanitarian situation in Lebanon as becoming "catastrophic."
"You have a situation where two parties are at war with each other, with very divergent views on a whole range of things," Churkin told reporters in New York. "And you need to bring them to some common denominator. So it is a very difficult diplomatic task. But we feel that with this humanitarian cessation of hostilities, we'll have more of a chance accomplishing that task quickly than in a situation of continued fighting and continued human tragedy and escalation of military conflict."
A Distraction?
U.S. Ambassador the UN John Bolton said it was possible the Security Council could vote as early as today on a U.S.-French proposal for a permanent cease-fire in Lebanon.
Bolton said the Russian proposal is distracting from work on the original resolution.
"We're not playing games here," Bolton added. "This is very serious."
The original French-U.S. draft resolution was harshly criticized by Arab leaders earlier this week.
In a switch from its earlier position, France now agrees with Lebanon that Israel should withdraw its estimated 10,000 troops back across the border if the Lebanese Army deploys into southern Lebanon.
Beirut says it is ready to immediately send 15,000 troops into areas controlled by Hizballah.
But Washington backs Israel's desire to keep its troops in Lebanon until the arrival of an international force -- which could take longer.
Turning To The Human Rights Council
The UN Human Rights Council is due to hold a special session today to debate a move by Muslim countries to condemn Israel for the alleged indiscriminate bombardment of Lebanon and the massacre of civilians.
Reports say the draft text put forward by Muslim countries makes no mention of Hizballah guerrillas. Muslim countries including Tunisia, Pakistan, and Indonesia were backed by Russia and China in their bid to call the extraordinary session of the 47-country council in Geneva.
Israeli leaders decided on August 10 to postpone the major new ground offensive they had approved the day before to give international negotiators more time to orchestrate a cease-fire and force Hizballah to pull back to a range where it can no longer reach Israeli towns with its rockets.
But Israeli Tourism Minister Yitzhak Herzog said Israel would resume its offensive if diplomatic efforts produce no results.
The Fighting Continues
Meanwhile, Israeli warplanes have resumed strikes today on suspected Hizballah targets in Beirut's southern suburbs, and in northern Lebanon.
Eleven people were reported killed in an attack on a bridge in the north, near the Syrian border.
In Beirut, a series of explosions were heard around daybreak, but it was not immediately clear what had been targeted or the extent of damage.
The Middle East Crisis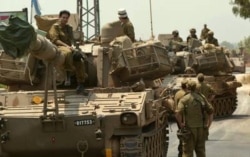 Israeli tanks poised on the border with Lebanon on August 2 (epa)
CLASH OF ARMS:
Since mid-July, Israel has been battling Hizballah guerrillas in southern Lebanon and carrying out punishing air strikes throughout the country. International efforts to broker a cease-fire have met with one obstacle after another, as civilian casualties mount and a humanitarian crisis unfolds. Since Hizballah is closely supported by Syria and Iran, the conflict threatens constantly to develop into a regional conflagration....
(more)
RELATED ARTICLES
Israel Steps Up Assault Despite Hizballah Warning
'We The People Are The Big Losers'
Iranians 'Volunteer' To Help Hizballah
Lebanon Cancels Talks After Bloody Qana Attack
The World Searches For An Elusive Solution
Analyst Says 'U.S. Needs To Talk To Syria, Iran'