As the deadline passed, reports say Israeli planes disappeared from the sky, and Hizballah was holding fire.
Israel, however, said it would maintain its air and sea blockade of Lebanon until a mechanism is in place to prevent alleged arms smuggling.
Withdrawal Beginning
Reports say some Israeli forces have started withdrawing from southern Lebanon.
Reuters quoted an Israeli military official as saying, "there are forces going out, but there are enough forces that are staying." Israel had poured an estimated 30,000 troops into Lebanon.
Israeli air strikes and artillery fire continued until 15 minutes before the deadline, killing two people and wounding nine. Two Israeli soldiers were killed.
A strike in Sidon targeted the general command of the pro-Syrian Popular Front for the Liberation of Palestine. Another destroyed an antenna of Hizballah's Al-Manar television, about 12 kilometers from Beirut.
Lebanese, Israeli, and UN officers met on the border today to discuss the withdrawal of Israeli forces from southern Lebanon and the deployment of the Lebanese army in the war-ravaged region.
A UN spokesman said the meeting, which came four hours after the truce began, marks the first step in the process of military disengagement as demanded by a UN Security Council resolution.
Both Sides Declaring Victory
Israeli Foreign Ministry spokesman Mark Regev said Hizballah's "state within a state" and its ability to fire on Israelis has been destroyed.
"We in Israel will do everything we can to make this process work," Regev said. "We will stick by our obligations under the cessation of hostilities. If, unfortunately, however, Hizballah acts violently, of course, we will have to respond."
Hizballah, for its part, distributed leaflets in Lebanon claiming victory and thanking citizens for their patience during the 34 days of fighting.
Meanwhile, Italian Foreign Minister Massimo D'Alema arrived in Beirut today for talks with Lebanese leaders to discuss a potential prisoner swap between Israel and Hizballah.
D'Alema was due to discuss the exchange with parliament speaker Nabih Berri, who represents Hizballah on the issue.
International Force
The cease-fire is the first step in an internationally backed process that will include the deployment of a 15,000-strong UN peacekeeping force in southern Lebanon.
A Lebanese government statement on August 13 said Morocco, Indonesia, Italy, Turkey, Spain, and Malaysia had all agreed to provide troops, on the condition that all Lebanese parties accept their participation.
Other European countries are discussing possible contributions. They include France, which could contribute up to 5,000 soldiers; Finland; Sweden; and Ireland.
There is no agreement yet on a deadline for getting the new UN troops on the ground.
Diplomats also have yet to agree on whether the troops will merely monitor the cease-fire or will have a stronger mandate to use their weapons to enforce the truce.
Still another question is whether Hizballah will disarm, as it is required to do under the UN resolution. Disarming Hizballah was a key Israeli demand in agreeing to the cease-fire.
So far, Hizballah leader Sheikh Hassan Nasrallah has left his options open.
"We have said that we agree to the idea of the deployment of the Lebanese army, backed by UNIFIL forces, then the resistance [Hizballah] will cooperate fully with them, God, willing," Nasrallah said on August 13. UNIFIL is the UN observer force currently based in Lebanon that could serve as the basis for the new international force.
A Lebanese cabinet meeting called on August 13 to discuss disarming Hizballah was indefinitely postponed. Hizballah is one of the parties in the Lebanese government.
The fate of the two Israeli soldiers whose abduction on July 12 sparked the monthlong fighting remains unknown.
But Israel's "Ha'aretz" newspaper reported on August 13 that Israel is now willing to discuss a possible release of Hizballah prisoners in exchange for freeing the two captives.
Stepping Up Aid
International donors are seizing this opportunity to get badly needed aid to Lebanon.
EU Humanitarian Aid Commissioner Louis Michel will visit Lebanon on August 14-16 and Israel on August 17.

European Commission spokeswoman Antonia Mochan said in Brussels today that Michel will hold a series of high-level meetings primarily dedicated to getting aid through to the victims.
"While in Lebanon, he will meet the prime minister and other members of the Lebanese government, aid workers, and visit centers for internally displaced people; and in Tel Aviv, he will meet the vice prime minister, the minister of foreign affairs, and [the] minister of defense," Mochan said. "The priorities assessed during this visit are, of course, primarily the secure humanitarian access for victims of the conflict and the cessation of hostilities."

The EU has so far been among the largest contributors of aid to relief organisations active in Lebanon.
(compiled from agency reports)
The Middle East Crisis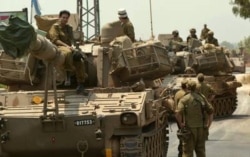 Israeli tanks poised on the border with Lebanon on August 2 (epa)
CLASH OF ARMS:
Since mid-July, Israel has been battling Hizballah guerrillas in southern Lebanon and carrying out punishing air strikes throughout the country. International efforts to broker a cease-fire have met with one obstacle after another, as civilian casualties mount and a humanitarian crisis unfolds. Since Hizballah is closely supported by Syria and Iran, the conflict threatens constantly to develop into a regional conflagration....
(more)
RELATED ARTICLES
Israel Steps Up Assault Despite Hizballah Warning
'We The People Are The Big Losers'
Iranians 'Volunteer' To Help Hizballah
Lebanon Cancels Talks After Bloody Qana Attack
The World Searches For An Elusive Solution
Analyst Says 'U.S. Needs To Talk To Syria, Iran'