In the interview with journalist Mike Wallace of the network CBS, Ahmadinejad denied that Iran is seeking a nuclear weapon and questioned the continuing U.S. military presence in Iraq.
He also criticized the United States for supporting Israel against Hizballah, and called Israel a "fabricated government" because, he said, it had been forced upon the Middle East after the World War II Holocaust.
(cbsnews.com, AFP)
What The Street Thinks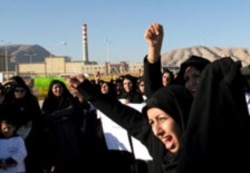 A demonstration in support of Iran's nuclear program outside the Isfahan uranium-conversion facility in Isfahan in January (epa)

IRANIANS SPEAK OUT ON THE DISPUTE: To find out more about what Iranians think about the international controversy over their country's nuclear program, RADIO FARDA asked listeners to express their views....(more)
See also:
Iran: Public Has Mixed Feelings On Nuclear Issue

THE COMPLETE PICTURE: RFE/RL's complete coverage of controversy surrounding Iran's nuclear program.
CHRONOLOGY
An annotated timeline of Iran's nuclear program.