Participants include cartoonists from Iran and foreign countries, such as the United States, Indonesia, and Turkey.
The Iranian newspaper "Hamshahri," which co-sponsored the event, says the exhibition is aimed at testing the West's tolerance for drawings about the killing of 6 million Jews by the Nazis during World War II.
The event is also designed as a response to the outrage caused among Muslims last year by Western caricatures of the Phophet Muhammad.
According to AP, the display is strongly influenced by Iranian President Mahmud Ahmadinejad's negationist comments about the Holocaust.
Several Iranian intellectuals -- including Emadoddin Baghi, a journalist close to former President Mohammad Khatami -- have criticized the exhibition.
The exhibition will run until September 13. It is being held at the Museum of Palestininian Contemporary Art.
In other news, Iranian Foreign Minister Manuchehr Mottaki met with Algerian Prime Minister Abdelaziz Belkhadem in Algiers today.
Iran's official IRNA news agency said the two men reviewed bilateral issues and the situation in Lebanon, and Belkhadem reportedly called for cooperation between Tehran and Algiers in the oil and gas sector.
Mottaki, who is on a regional tour of Middle Eastern and North African countries, was due to hand over a message from Iranian President Ahmadinejad to his Algerian counterpart Abdelaziz Bouteflika.
(IRNA, AP)
Iranian Anti-Zionism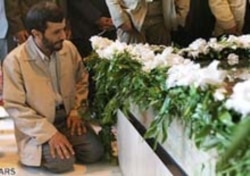 President Ahmadinejad visiting the tomb of Ayatollah Ruhollah Khomeini in October (Fars)


READ
Each year in Iran, the last Friday of Ramadan is celebrated as Qods (Jerusalem) Day, officially a day for expressing solidarity with the Palestinian people.
"I have been notifying the Muslims of the danger posed by the usurper Israel,"
Ayatollah Ruhollah Khomeini,
father of Iran's Islamic Revolution, said in an August 1979 announcement. "I ask all the Muslims of the world and the Muslim governments to join together to sever the hand of this usurper and its supporters...and, through a ceremony demonstrating the solidarity of Muslims worldwide, announce their support for the legitimate rights of the Muslim people..."
(more)
SEE ALSO:
Iranian President's Latest Comments About Israel Spark Further Condemnation
Iranian President Says Light Surrounded Him During UN Speech
INTERVIEW: On December 22, 2005, RFE/RL's Radio Farda spoke with FRED ZEIDMAN, director of the U.S. Holocaust Memorial Museum in Washington, D.C. Zeidman commented on Iranian President Mahmud Ahmadinejad's anti-Israeli comments.
LISTEN
Hear the complete interview (about nine minutes):
Real Audio Windows Media
ARCHIVE: For an archive of RFE/RL's coverage of Iran, click here.