"The enemies intended to create chaos in the region, but did not succeed," Belkhadem said following an August 14 meeting in Algiers with Mottaki, according to IRNA. "They should not be allowed to pursue their aggressive goals under the cover of the United Nations Security Council resolution."
Iran has been one of the most outspoken critics of Israel's decision to invade Lebanon following Hizballah's cross-border abduction of two Israeli soldiers in mid-July.
Defending The Right To Peaceful Nuclear Power

Belkhadem also defended Tehran on the nuclear issue, saying that "a selective approach to the [nuclear] issue is unacceptable and international agreements on nuclear disarmament should also be applicable to the countries currently possessing such weapons," according to IRNA. "Besides, the NPT [Nuclear Non-Proliferation Treaty] member states should be entitled to peaceful use of nuclear energy."

Iran is facing a UN Security Council deadline of August 31 to abandon sensitive nuclear activities, including uranium enrichment, or risk economic sanctions. Iranian officials are expected to respond later this month to an international incentives package aimed at curbing the country's nuclear program.

Belkhadem reportedly called for cooperation between Tehran and Algiers in the oil and gas sector.

Mottaki, who is on a regional tour of Middle Eastern and North African countries, was expected to deliver a message from President Mahmud Ahmadinejad to Algerian President Abdelaziz Bouteflika.
Mottaki stressed Tehran's eagerness to expand relations with Algeria, and he outlined Iran's "principled" tack on regional and international issues, IRNA reported.

The Algiers-based "Liberte" daily today noted that, with the exception of a short period in the 1990s when Algeria accused Iran of supporting the banned Islamic Salvation Front (FIS), relations between the two countries have always been "good."

The daily quoted Ali Larijani, the secretary of Iran's Supreme National Security Council, as saying recently that Algiers and Tehran "have common interests and face common threats."

(IRNA, liberte-algerie.com)
Avoiding International Isolation
Avoiding International Isolation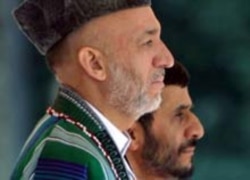 Afghan President Hamid Karzai (left) with Iranian President Mahmud Ahmadinejad in Tehran on May 27 (epa)
DIPLOMATIC OFFENSIVE:
As the United States and the European Union increase pressure on Iran regarding its nuclear program, Tehran has launched a wide-ranging and ambitious diplomatic offensive, including high-level state visits with countries including China, Indonesia, Afghanistan, Azerbaijan, and Pakistan. In May, Iranian President Mahmud Ahmadinejad participated in a high-profile
summit of the so-called Developing 8 (D8) group
of countries in Bali. Below are some links to RFE/RL's coverage of Iran's efforts to boost international support for its position.
Tehran's Shanghai Plans Seen As Bold Geopolitical Stroke
Nonaligned Movement Expresses Support For Iran
Afghan, Iranian Presidents Tout Strong Historical Ties
Iranian Foreign Minister In Pakistan For Energy Talks
Iranian Foreign Minister Visits Baghdad
ARCHIVE
To view all of RFE/RL's coverage of Iran, click here.

THE COMPLETE STORY: RFE/RL's complete coverage of controversy surrounding Iran's nuclear program.