Russian Officer Jailed For Killing Conscript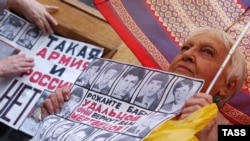 A woman holds a placard showing victims of hazing at a rally against conscription in Moscow this month (ITAR-TASS) August 16, 2006 -- A Russian military court has sentenced an officer to six years in prison for punching a conscript to death.
Interfax news agency reported today that the officer struck out at soldiers in March 2004 in anger at the lack of order at barracks in Sofrino, northeast of Moscow.
A court spokesman is quoted as saying that the conscript's heart stopped after a powerful blow to the chest.
The officer was also banned from serving in positions of responsibility for two and a half years after he finishes his jail term.
(AFP)