Bosnian Mass Grave Yields Over 1,000 Bodies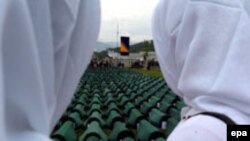 Some of the 610 coffins of Bosnian Muslims killed at Srebrenica reburied at a ceremony in 2005 (epa) August 17, 2006 -- Forensic teams today completed excavating a mass grave in Bosnia that they say contains the skeletons of more than 1,000 victims of the Srebrenica massacre.
Murat Hurtic, a member of the Bosnian forensic team, said the team has uncovered 1,153 skeletons, of which 144 were complete while 1,009 were dismembered.
The remains were recovered from a grave located in the village of Kamenica, near the eastern Bosnian town of Zvornik.
The victims of the Srebrenica massacre, the worst in the 1992-1995 Bosnian war and the worst in Europe since 1945, were men and boys seized by Bosnian Serb forces after they captured the city in 1995. More than 7,000 are thought to have been killed by Serbian forces.
However, the grave also contained the bodies of women, elderly men, and children.
Srebrenica had been designated a safe city under UN protection.
(AP, AFP, dpa)