BRUSSELS, May 3, 2006 (RFE/RL) -- Serbia's past has in recent years increasingly become embodied by Ratko Mladic, the fugitive former Bosnian Serb general accused of war crimes. That past came back to haunt Serbia today, when the EU decided to suspend talks about closer formal ties because of Serbia's failure to arrest Mladic.
The EU had explicitly linked future relations with Serbia to the country's ability to come to grips with its past. It had given the government of Serbian Prime Minister Vojislav Kostunica until the end of March to find Mladic and surrender him for trial before the International Criminal Tribunal for the former Yugoslavia (ICTY) in The Hague. When Kostunica then said his government was close to capturing Mladic, the deadline was extended a month. That deadline has now passed, and today the EU decided that it should suspend talks on a Stabilization and Association Agreement, commonly seen as the first step towards accession.
EU Enlargement Commissioner Olli Rehn said Brussels had "no option," and the chief war crimes prosecutor in The Hague, Carla Del Ponte, accused Kostunica's government of deceit.
EU: Control The Army, Find Mladic
UN prosecutors believe Mladic is hiding in Serbia with the help of army loyalists who were once his subordinates.
In Brussels, Rehn said that responsibility now rests with Belgrade and that is is important for Kostunica's government to establish civilian control over Serbia's army.
"I was misled when I was told at the end of March that the arrest of Mladic was a matter of days or weeks." Carla Del Ponte, the UN's chief war crimes prosecutor
"The security services and, especially, the military intelligence have not been fully under civilian democratic control of the Serbian government," Rehn said. "Now, it is high time for the Serbian government and all of the authorities of Serbia to intensify efforts in order to be able to arrest Ratko Mladic."
Rehn said the EU's talks with Serbia and Montenegro could resume quickly, but only if Kostunica's government demonstrates what he called a "dramatic improvement in cooperation" with the ICTY in the Mladic affair.
The United Nations' ICTY has indicted Mladic on charges of genocide in the slaughter of 8,000 Muslim men and boys in 1995 in the Bosnian enclave of Srebrenica. It was the worst massacre in Europe since World War II.
Mladic was the commander of Serbian forces during the war in Bosnia from 1991 to 1995 in which 200,000 people are believed to have been killed.
Betrayal And Deceit?
Kostunica's response to the decision was to issue a statement saying the search for Mladic continues, that the suspected war criminal is isolated, and that he should give himself up.
The EU's suspension of accession talks has already had an impact on Serbia's domestic politics, prompting the resignation of Serbia and Montenegro's chief negotiator with the EU, Deputy Prime Minister Miroljub Labus.
In his letter of resignation to Kostunica, Labus said the Belgrade government "betrayed the most important interest of the country" by not meeting the conditions for continued talks with the EU.
In The Hague, chief ICTY prosecutor Carla Del Ponte was even harsher in her criticism, questioning the veracity and integrity of the Serbian government.
"I was misled when I was told at the end of March that the arrest of Mladic was a matter of days or weeks. The information which was presented to me at that time to substantiate that the positive outcome could be expected soon has proven to be wrong or largely misrepresented," she said.
Del Ponte said Serbian officials told her as recently as April 23 that they knew Mladic's whereabouts and were about to arrest him. Now, she says, it appears that they are guilty of downright duplicity.
"Kostunica, himself, told me they are ready to arrest" Mladic, she said. "So, they [are two-faced]. It is absolutely unacceptable, incredible."
Del Ponte said it was time for Serbia and Montenegro to mount what she called a "focused and coordinated plan" to find and surrender Mladic. In the meantime, she said she will issue a formal report on Belgrade's failure to the UN Security Council next month.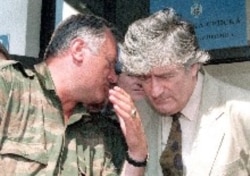 Ratko Mladic (left) confers with Radovan Karadzic during a meeting in Pale in 1993 (epa)


READ
Ten years have passed since former Bosnian Serb leader
RADOVAN KARADZIC
and his former military commander General
RATKO MLADIC
were indicted by the Hague-based war crimes tribunal for genocide and other war crimes. The two fugitives remain at large, despite the obligation of NATO-led peacekeepers and the various governments in the region to arrest the indictees and send them to The Hague. Many people wonder why the most powerful military alliance in history and a host of governments seeking Euro-Atlantic integration remain unable to catch the two
... (more)
LISTEN
To listen to wartime audio of Ratko Mladic,
click here.
See also:
Wife Of Ex-Bosnian Serb Leader Urges Him To Surrender
War Crimes Tribunal Judge Says Trials To Exceed 2008 Deadline
Net Tightens Around Key Serb War Crimes Suspect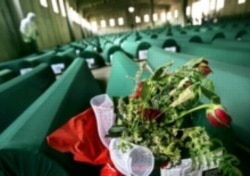 Coffins of Srebrenica victims being prepared for burial in October (AFP)

SREBRENICA: The July 1995 massacre of some 7,000 Muslim men and boys by Bosnian Serb fighters near the UN-designated safe haven of Srebrenica is the worst atrocity of its kind in Europe since the end of World War II. Since the incident, the name Srebrenica has become practically synonomous with ethnic cleansing....(more)
See also:
Coming To Grips With The UN's Failure At Srebrenica
Child Of Srebrenica Returns Home For Anniversary Of Massacre