Olli Rehn, the EU enlargement commissioner, said "the Commission is ready to resume negotiations as soon as Serbia achieves full cooperation" with the ICTY.
Rehn said that if Mladic is apprehended very soon, a Stabilization and Accession Agreement could be concluded this year.
A Stablization and Accession Agreement is an essential step on Serbia's path toward eventual EU membership.
The EU's move has already produced a political casualty in Serbia. The country's deputy prime minister and its chief negotiator with the EU, Miroljub Labus, resigned, saying that the government had betrayed the interests of the country.
The government was also attacked by the ICTY's chief prosecutor, Carla Del Ponte, who, at a press conference called after the EU's decision, accused Serbia of misleading her.
Del Ponte said she had received reports that Belgrade could have arrested Mladic at the end of January but had declined to do so because the government wanted him to surrender voluntarily.
"The information which was presented to me at that time to substantiate that the positive outcome could be expected soon, has proven to be wrong or largely misrepresented," Del Ponte said.
Mladic is charged with genocide over the massacre in 1995 of 8,000 or more Bosnian Muslims in Srebrenica -- Europe's worst atrocity since World War II -- and for the deaths of 10,000 people during the 1992-95 siege of Sarajevo.
The Fugitives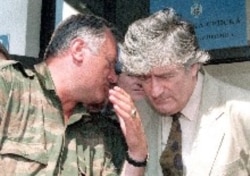 Ratko Mladic (left) confers with Radovan Karadzic during a meeting in Pale in 1993 (epa)


READ
Ten years have passed since former Bosnian Serb leader
RADOVAN KARADZIC
and his former military commander General
RATKO MLADIC
were indicted by the Hague-based war crimes tribunal for genocide and other war crimes. The two fugitives remain at large, despite the obligation of NATO-led peacekeepers and the various governments in the region to arrest the indictees and send them to The Hague. Many people wonder why the most powerful military alliance in history and a host of governments seeking Euro-Atlantic integration remain unable to catch the two
... (more)
LISTEN
To listen to wartime audio of Ratko Mladic,
click here.
See also:
Wife Of Ex-Bosnian Serb Leader Urges Him To Surrender
War Crimes Tribunal Judge Says Trials To Exceed 2008 Deadline
Net Tightens Around Key Serb War Crimes Suspect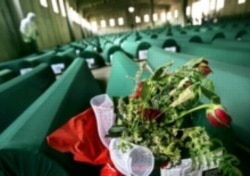 Coffins of Srebrenica victims being prepared for burial in October (AFP)

SREBRENICA: The July 1995 massacre of some 7,000 Muslim men and boys by Bosnian Serb fighters near the UN-designated safe haven of Srebrenica is the worst atrocity of its kind in Europe since the end of World War II. Since the incident, the name Srebrenica has become practically synonomous with ethnic cleansing....(more)
See also:
Coming To Grips With The UN's Failure At Srebrenica
Child Of Srebrenica Returns Home For Anniversary Of Massacre