EU Extends Deadline For Mladic Handover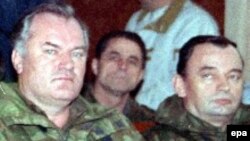 Ratko Mladic (left -- file photo) (epa) March 31, 2006 -- The European Union has extended the deadline by a month for Serbia and Montenegro to hand over war crimes suspect Ratko Mladic.
The capture of the Bosnian Serb wartime commander has been a major
stumbling block for Serbia to start negotiations with the EU about
possible entry into the union.
The European Commission announced
today it will not go ahead with a threat to suspend entry talks with
Belgrade next week. The development comes after the chief prosecutor
for the UN's International Criminal Tribunal for former Yugoslavia,
Carla Del Ponte, reported progress in Serbia's cooperation in tracking
down Mladic.
The EU wants Mladic to be turned over to the UN
tribunal in The Hague. Mladic faces charges of genocide stemming from
the 1992-95 war in Bosnia.
The original deadline to hand him over was March 31.
(AP, Reuters, AFP)

SUBSCRIBE
For a regular review of politics, media, and RFE/RL broadcasts in the western Balkans,
subscribe to "RFE/RL Balkan Report."