EU: War Crimes Issue Pushing Serbia To Crossroads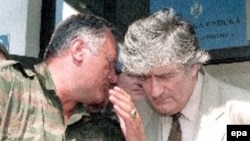 Ratko Mladic (L) and Radovan Karadzic pictured in 1993 (epa) The EU emerges from talks with the UN war crimes tribunal to tell Serbia its prospects of EU membership are at stake unless it cooperates in finding the war crimes suspects Ratko Mladic and Radovan Karadzic.
BRUSSELS, 19 January 2006 (RFE/RL) -- The European Commission has the increased pressure on Serbia to help to capture the war crimes indictees Ratko Mladic and Radovan Karadzic, saying that Serbia must choose between its "nationalist past and a European future."
The warning -- made by EU Enlargement Commissioner Olli Rehn on 19 January -- came after a meeting in Brussels with the chief prosecutor of the International Criminal Tribunal for the Former Yugoslavia (ICTY), Carla Del Ponte.
Del Ponte underscored just how important she believes Serbia's cooperation could be in apprehending the two men by asserting that Mladic, the field commander of Bosnian Serb forces during the Bosnian war in 1992-1995, is in hiding in Serbia and is being protected by the Serbian army.
Del Ponte dismissed recent claims that Mladic may be hiding in Russia.
Serbian officials have in the past denied helping either Mladic or Karadzic, the wartime political leader of the Bosnian Serbs, to evade capture.
"I want to put Mladic in July this year on trial with all the other nine accused of Srebrenica genocide," she said, referring to the worst massacre in Europe since World War II, when at least 8,000 Bosnian Muslims were slaughtered in the town of Srebrenica by ethnic Serb forces.
Del Ponte called on the European Union to help the ICTY "in a strong way…to oblige Belgrade to deliver Mladic and all the other fugitives," declaring the EU could play an "extremely important" role.
Del Ponte credited sustained EU pressure on Croatia with helping to ensure the capture, in Spain in December, of the Croatian war crimes indictee, the retired general Ante Gotovina. Croatia has officially been a candidate for EU membership since October.
The Potentially 'Extremely Negative Consequences'
The strength of the EU's pressure on pressure was made clear by Rehn, who said that "if we cannot see rapid progress in achieving full cooperation [with the ICTY], it would certainly have extremely negative consequences to the conduct of negotiations on the Stabilization and Association Agreement (SAA) between the EU and Serbia."
A Stabilization and Association Agreement is a precursor to EU candidate status for countries in the Western Balkans. In 2004, EU leaders promised all countries in the region -- Croatia, Serbia and Montenegro, Bosnia, Macedonia, and Albania -- that they could all join the EU one day.
Rehn said that, under the circumstances, it would be "extremely difficult" to conclude SAA talks with Serbia and said he would raise the possibility of suspending SAA talks in discussions with EU member states.
Rehn underlined that the EU's resolve to force Serbia to cooperate with the ICTY would not be swayed by factors such as the sensitivity of talks on the final status of Kosovo, which are expected to come to a head this year.
"The Kosovo status process cannot be used as an excuse for avoiding international obligations by Serbia. That needs to be very clear," Rehn declared.
Rehn sought to reassure Bosnia that that Serbia's failure to cooperate with the ICTY would have no direct bearing on the ongoing SAA talks between the EU and Bosnia.
Contrasting Records
Del Ponte threw Serbia's allegedly poor record of cooperation with the ICTY by praising a number of Serbia's neighbors.
"Republika Srpska," the Bosnian Serb entity in Bosnia, "is cooperating with us, [with] some difficulties, but substantially they are cooperating," Del Ponte said.
The UN's chief prosecutor reserved her strongest praise for Montenegro, which is currently in a state union with Serbia but which is expected to hold a referendum on independence this April.
"We are very satisfied about Montenegro['s] cooperation with us, they are pro-active, they help a lot. They give us information, we are very pleased about the cooperation of the authorities in Montenegro," Del Ponte said.
Del Ponte said Montenegro's approach was in sharp contrast to that of its larger neighbor.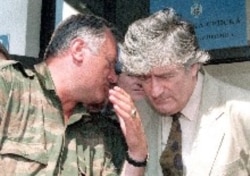 Ratko Mladic (left) confers with Radovan Karadzic during a meeting in Pale in 1993 (epa)


READ
Ten years have passed since former Bosnian Serb leader
RADOVAN KARADZIC
and his former military commander General
RATKO MLADIC
were indicted by the Hague-based war crimes tribunal for genocide and other war crimes. The two fugitives remain at large, despite the obligation of NATO-led peacekeepers and the various governments in the region to arrest the indictees and send them to The Hague. Many people wonder why the most powerful military alliance in history and a host of governments seeking Euro-Atlantic integration remain unable to catch the two
... (more)
LISTEN
To listen to wartime audio of Ratko Mladic,
click here.
See also:
Wife Of Ex-Bosnian Serb Leader Urges Him To Surrender
War Crimes Tribunal Judge Says Trials To Exceed 2008 Deadline
Net Tightens Around Key Serb War Crimes Suspect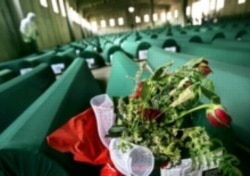 Coffins of Srebrenica victims being prepared for burial in October (AFP)

SREBRENICA: The July 1995 massacre of some 7,000 Muslim men and boys by Bosnian Serb fighters near the UN-designated safe haven of Srebrenica is the worst atrocity of its kind in Europe since the end of World War II. Since the incident, the name Srebrenica has become practically synonomous with ethnic cleansing....(more)
See also:
Coming To Grips With The UN's Failure At Srebrenica
Child Of Srebrenica Returns Home For Anniversary Of Massacre