Prague, 28 December 2005 (RFE/RL) -- Security officials in Serbia say Ratko Mladic may recently have been in Russia and is now possibly hiding somewhere in Serbia.
In an exclusive interview with RFE/RL's South Slavic and Albanian Languages Service, Serbia's war crimes prosecutor, Vladimir Vukcevic, said on 24 December that Serbian authorities have identified a number of Mladic's supporters who are believed to be helping him evade arrest. "As a war crimes prosecutor, I have information about the people aiding war crime fugitives," Vukcevic said. "The Serbian Security Information Agency and the Interior Ministry are also in possession of this information."
"Finally, it has come -- the day of revenge against the Turks."
However, on 27 December, Serbia's Interior Ministry denied that police know who is helping Mladic and other war crimes fugitives. Interior Minister Dragan Jocic told a parliamentary national security committee that Mladic and Bosnian Serb wartime leader Radovan Karadzic could be hiding in Serbia. If so, he said, their whereabouts are unknown to police.
On the same day, though, Serbia and Montenegro's human rights minister, Rasim Ljajic, told the state-run news agency Tanjug that there are indications "some active military officials" were or still are in contact with Mladic. Ljajic said the hunt for Mladic is seeking "to narrow his room to maneuver and remain in hiding."
A spokesperson in the prosecutor's office at the Hague-based International Criminal Tribunal for the former Yugoslavia (ICTY) refused on 28 December to comment on the media reports.
Mladic In War And On The Run
Mladic has been on the run since being indicted on charges of genocide and other war crimes by the ICTY. The charges against Mladic relate to his role in the siege of Sarajevo during the 1992-95 war in Bosnia and for allegedly orchestrating the massacre of some 8,000 Muslim men and boys in Srebrenica in 1995. It was Europe's worst massacre since World War II.
Mladic marked the capture of Srebrenica with the words: "Finally, it has come -- the day of revenge against the Turks."
Serbia has been under growing international pressure to capture Mladic and Karadzic. Defense Minister Zoran Stankovic said ICTY told Belgrade in November that it risks "excommunication" from the international community unless Mladic and Karadzic are turned over. The pressure increased further following the arrest on 7 December of Croatia's top war crimes suspect, General Ante Gotovina.
Police in Serbia are quoted as saying they recently intercepted a cell phone call made by Mladic, the same technique used to locate Gotovina.
The UN's chief prosecutor, Carla del Ponte, said on 15 December that a "dysfunctional" international system has allowed Mladic, Karadzic, and other indicated war criminals to remain fugitives. She urged the European Union and the United States to increase pressure on local governments to hand over the remaining fugitives and to make cooperation in this issue a precondition of accession to NATO and the European Union.
The Fugitives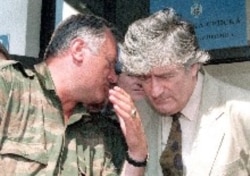 Ratko Mladic (left) confers with Radovan Karadzic during a meeting in Pale in 1993 (epa)


READ
Ten years have passed since former Bosnian Serb leader
RADOVAN KARADZIC
and his former military commander General
RATKO MLADIC
were indicted by the Hague-based war crimes tribunal for genocide and other war crimes. The two fugitives remain at large, despite the obligation of NATO-led peacekeepers and the various governments in the region to arrest the indictees and send them to The Hague. Many people wonder why the most powerful military alliance in history and a host of governments seeking Euro-Atlantic integration remain unable to catch the two
... (more)
LISTEN
To listen to wartime audio of Ratko Mladic,
click here.
See also:
Wife Of Ex-Bosnian Serb Leader Urges Him To Surrender
War Crimes Tribunal Judge Says Trials To Exceed 2008 Deadline
Net Tightens Around Key Serb War Crimes Suspect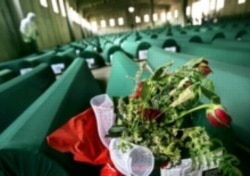 Coffins of Srebrenica victims being prepared for burial in October (AFP)

SREBRENICA: The July 1995 massacre of some 7,000 Muslim men and boys by Bosnian Serb fighters near the UN-designated safe haven of Srebrenica is the worst atrocity of its kind in Europe since the end of World War II. Since the incident, the name Srebrenica has become practically synonomous with ethnic cleansing....(more)
See also:
Coming To Grips With The UN's Failure At Srebrenica
Child Of Srebrenica Returns Home For Anniversary Of Massacre