Lebanon To Receive Assistance With Oil Spill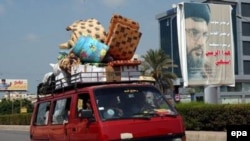 Residents have been returning to southern Lebanon (file photo) (epa) August 17, 2006 -- International experts today promised Lebanon immediate assistance cleaning up an oil spill off its coast, which was caused by the Israeli bombing last month of a power station near Beirut.
The experts estimate that the cleanup operation will cost at least $65 million.
But United Nations Environment Program (UNEP) Executive Director Achim Steiner told journalists that
the precise threat caused by the leak
remained unknown.
That's because inspection crews had no access to the affected area prior to a cease-fire between Israeli forces and the Hizballah militia.
UNEP estimates that up to 15,000 tons of oil polluted 150 kilometers of shoreline.
Officials from the UN, the EU, and the International Maritime Organization as well as ministers from Lebanon, Syria, Turkey, and Cyprus were attending the meeting in the Greek port of Piraeus.
(AFP)
An Increasingly Thirsty World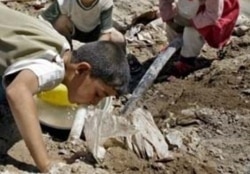 An Iraqi boy drinks from a waste-water reservoir near Baghdad (epa file photo)

A MATTER OF LIFE AND DEATH. Disputes about access to water are increasingly coming to the center of global attention, especially in China, India, and Central Asia. Writing about the 1967 Six Day War in his 2001 memoirs, Israeli Prime Minister Ariel Sharon said that "while border disputes between Syria and ourselves were of great significance, the matter of water diversion was a stark issue of life and death." (more)
RELATED ARTICLES
Tibetan Water Plans Raise Concerns
Environmentalists Say China Misusing Cross-Border Rivers
China's Economic Boom Strains Environment
Nature Waits For Cross-Border Sanctuaries To Catch On
Overused Rivers Struggle To Reach The Sea
UN Water Report Takes A Hard Look At Central Asia
Irrigation, Pollution Threaten Central Asian Lakes


THE COMPLETE STORY: Click on the icon to view a dedicated webpage bringing together all of RFE/RL's coverage of Kazakhstan, Kyrgyzstan, Tajikistan, Turkmenistan, and Uzbekistan.