The head of the country's council for development and reconstruction, Fadl Shalak, said today that the damage incurred "amounts to $3.5 billion." The amount includes $2 billion for buildings and $1.5 billion for infrastructure, such as bridges, roads, and power plants.
Shalak said that the figures -- which do not include the indirect losses to business, industry, and tourism -- were not final, as the authorities still had to undertake a final study.
Early estimates say almost 100 roads and 70 bridges were damaged, while the number of homes destroyed is still unclear. Hizballah claims some 15,000 homes have been flattened and many more damaged. Other estimates say some 10,000 homes will need rebuilding.
Hizballah Steps In To Rebuild
As the Lebanese now turn to rebuilding, it is the Iranian-backed Hizballah that appears to be moving fastest on the ground.
Zouheir Kseibati, editor at the Beirut office of the "Dar al-Hayat" online newspaper, says the Lebanese Shi'ite militia is wasting no time in assessing the damage, cleaning out the rubble, and finding new or temporary homes for the victims.
"It's just the beginning. I mean, you have to take into account that the cease-fire was just called three days ago. We have to wait a few days at least to see what will happen, because people are just starting to return to their homes and to see the damage."
"In general, these areas which were targeted by the Israelis, they are usually the places where Hizballah has support from people, so it's very important for them to clean the area first, to start rebuilding the houses for people who [have stayed] in schools [after the war] until now -- in many areas of Lebanon," Kseibati says.
Hizballah's leader Sheikh Hassan Nasrallah has promised on television that payments would be made without delay to those who lived in now-destroyed homes.
Competition Or Cooperation
The Lebanese government is also launching a reconstruction effort. But Kseibati says Hizballah -- which is well funded by Iran and by rich Lebanese Shi'a abroad -- appears to be in competition with the government rather than cooperating with it.
"It's not clear yet, but what Nasrallah, the leader of Hizballah, said was that they are not going to wait for the government to start rebuilding the houses," Kseibati says. "They are not going to wait for the government, which is very clear."
However, Kseibati says it is too early to say whether Hizballah has indeed gained the upper hand in the reconstruction and aid effort.
"It's just the beginning," he says. "I mean, you have to take into account that the cease-fire was just called three days ago. We have to wait a few days at least to see what will happen, because people are just starting to return to their homes and to see the damage -- to see if they can really return or have to stay away for awhile until the Hizballah or the government help them to rebuild again."
Iranian President Mahmud Ahmadinejad has said Iran is ready to help reconstruction in Lebanon.
Some observers say the aid promises from Hizballah and Iran -- and the race to be ahead of government efforts -- could reflect a competition for the hearts and minds of the Lebanese public following the war.
Hizballah is widely seen in Lebanon as successfully standing up to Israel. But it is also blamed in some quarters for starting the fighting with a cross-border seizure of two Israeli soldiers.
Nabil Kawouk, a Hizballah leader for southern Lebanon, today reiterated his group's claim to victory while publicizing its reconstruction efforts.
"After the enemy was defeated and their aggression failed, victory for us was achieved," Kawouk said. "In response to an appeal by Hassan Nasrallah, we announce our victory and declare the start of clean-up efforts following Israel's aggression."
International Aid
Meanwhile, the Swedish government has announced it will host an international donors conference for humanitarian aid to Lebanon on August 31. Some 60 governments have been invited to attend the conference in Stockholm, although it is unclear how many countries will attend.
Arab foreign ministers will meet at Arab League headquarters in Egypt on August 20 for talks on Lebanon. The ministers will discuss whether to hold an emergency summit of Arab leaders and how they could contribute to rebuilding Lebanon.
Kseibati says that, in the end, it will rest with the Lebanese people themselves to erase the wounds of the recent fighting as soon as possible.
"In Lebanon you have to take into account that in this country, after many wars, the people are familiar with this kind of catastrophe, and always they return -- they are trying to return -- to normal life as quickly as possible," Kseibati says.
UN Peacekeepers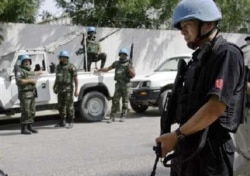 UN peacekeepers in Haiti in February 2006 (AFP)
MISSION
In cases in which international intervention in regional conflicts is deemed necessary, peacekeeping missions authorized by the UN Security Council provide legitimacy by demonstrating the commitment of the international community to address such crises.
MANDATE
UN peacekeeping missions are prepared, managed, and directed by the UN's Department of Peacekeeping Operations. The unique mandates of peacekeeping missions falls under the authority of the UN's Security Council and General Assembly, and under the command of the UN secretary-general.
MONEY
Funding for UN peacekeeping missions is provided by UN member states. All are legally obliged to pay a share under an established formula. The leading financial providers as of 2006 were: the United States, Japan, Germany, the United Kingdom, France, Italy, Canada, Spain, China, and the Netherlands.
MORE
All UN peacekeeping missions share the goals of alleviating human suffering and creating conditions for self-sustaining peace. Missions can consist of armed or unarmed military components, depending on their mandate, and various civilian tasks.
Military operations can include:
· Deploying to prevent the outbreak of conflict or the spillover of conflict across borders;
· Stabilizing conflict situations after a cease-fire in order to create an environment for the parties to reach a lasting peace agreement;
· Assisting in implementing comprehensive peace agreements;
· Leading states or territories through a transition to stable government, based on democratic principles, good governance, and economic development.
HISTORY
There have been 60 peacekeeping operations since 1948. Fifteen peacekeeping missions were in operation in mid-2006, employing more than 60,000 troops, 7,000 police, and over 2,500 military observers. Peacekeeping operations in 2006 were supported by uniformed personnel provided by 109 countries.
(source: UN Department of Peacekeeping Operations)
RELATED ARTICLES
Middle East: UN Mulls New International Force For Lebanon
Georgia: Issue Of Russian Peacekeepers Heats Up
UN: U.S. Presses For Peacekeeper Deployment To Darfur