Ottaway specializes in democracy and postconflict-reconstruction issues, with special focus on problems of political transformation in the Middle East and reconstruction in Iraq, and Afghanistan.
RFE/RL:
How do you evaluate the results of the Rome conference?
Marina Ottaway:
Well, the Rome conference, as such, was a failure. It confirmed what we already knew, that the United States has agreed to let Israel take more time to try to bomb Hizballah's facilities in Lebanon, that it refuses to try to negotiate a cease-fire now.
I think what we can expect is that the bombing will continue -- that the conflict will continue. For how long, I don't know. It's not quite clear to me how far the U.S. is going to continue with this position and risk getting into yet another conflict with the European countries, like the one that characterized the intervention in Iraq. But I would expect -- I would be very surprised if anything happens in the next week or 10 days.
RFE/RL:
The Middle East is no stranger to conflict. How dangerous, potentially, is this particular confrontation?
Ottaway:
It's an extremely serious crisis, not only because of the consequences it's already had on the humanitarian situation, but also because it has the potential for escalating beyond the countries involved now, that is, beyond Lebanon and Israel and to become more of a regional conflict.
RFE/RL:
Israel is fighting on two fronts, in Gaza and Lebanon. Should an end to the conflict in Lebanon be linked to what is happening in the Palestinian territories?
Ottaway:
Well, probably in the short [term] certainly, it would complicate the situation even more. For example, in the case of the conflict between Lebanon and Israel, the first priority is to negotiate a cease-fire. To try to involve also in the negotiation of that cease-fire, cessation of hostilities in Gaza, would indeed complicate things.
If we are talking about a more lasting solution, then the two issues are linked because there is never going to be peace in that area until the entire problem of the relationship of Israel with the Palestinians and with all of its neighbors have been solved.
RFE/RL:
Humanitarian considerations aside, do you believe Israel is likely to succeed in destroying Hizballah's military capability?
Ottaway:
Well, it is certainly going to have an effect in terms of degrading its military capability. Hizballah, to some extent will have been disarmed in the sense that it has fired off a lot of the missiles it has without being able to replenish them. Because there are certainly no new supplies that are coming into the country. So, certainly Hizballah will have been degraded militarily.
Hizballah is not going to disappear as an organization. Not only it will not disappear as a political organization, but it's not going to disappear as a military organization, no matter how degraded its capacity is. I think Israel should have learned from its many, many years of dealing with the Palestinian problem that you are never going to be able to disarm and neutralize a movement of this sort.
RFE/RL:
Israel says it would be willing to accept an international stabilization force in southern Lebanon, to keep the peace. Is that realistic?
Ottaway:
If there is no engagement with Hizballah, I think we can forget about deploying a peacekeeping force in southern Lebanon. Unless there is an agreement from Hizballah, it's a pipe dream to think that there can be an international force there.
Second, I don't think the U.S. can talk to Hizballah. Obviously, those talks will have to take place through intermediaries. But there has to be some negotiation with Hizballah, whether it's some European countries, whether it is the UN, but certainly, someone has to talk directly to Hizballah.
I think the U.S. needs to talk to Syria and probably to Iran as well, if it wants to achieve anything in terms of their involvement in the present situation. Neither Syria, nor Iran is going to give away something for nothing. And I think what they would expect in return is direct contacts and direct talks.
Iran, Syria, And Hizballah
Iran, Syria, And Hizballah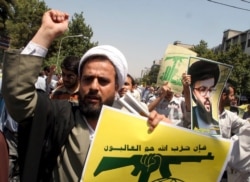 Iranians demonstrating in support of Hizballah in Tehran on July 17 (epa)

'FOR THE SAKE OF LEBANON': The Islamic Republic of Iran has served as an ideological inspiration for Hizballah since the Lebanese militant group's creation in 1982, and Tehran acknowledges that it supports the organization morally and politically. "Yes, we are friends of Syria and Iran" Hizballah leader Hassan Nasrallah has said. "For 24 years we benefited from our friendship with Syria and Iran for the sake of Lebanon...." (more)
RELATED ARTICLES
Tehran Playing Key Role In Israel-Lebanon Crisis
Iran, Hizballah Brush Off U.S. Terrorism Label
Intifada Conference In Tehran Has Multiple Objectives
UN Resolution Rankles Syria, Hizballah, Iran
ARCHIVE
RFE/RL
coverage of Iran
. RFE/RL web special on
Iran's nuclear program
.
SUBSCRIBE
For weekly news and analysis on Iran by e-mail,
subscribe to "RFE/RL Iran Report."