PRAGUE, August 4, 2006 (RFE/RL) -- Uriel Vaknin had a contented life with his girlfriend, a nurse, in Israel's third city Haifa.
"We just moved to this apartment three months ago," he says, "and it's nice living."
At least, it was until Hizballah began firing rockets at northern Israel -- some of which have hit Haifa.
"We're living still under attack [with] a lot of sirens through the day and bombs are falling," he says. "In the past three or four days in Haifa we felt no bombings, but before that it was 8-10 times a day, with every time five, or six, or 10 Katyushas [rockets.]"
"It's a matter of days so I don't think you should run and stop working and stop your life."
Vaknin's apartment building has an air-raid shelter, but it is several floors down. So every time the sirens go, he and his girlfriend have to rush down the stairs. Then one day last week, they did not make it in time.
"We were on the first floor on our way to the shelter and the bomb hit our building. It hit the next-door apartment, but the whole building is damaged," he says. "We have five [people] injured in that building, some are still in the hospital."
Now Vaknin and his girlfriend are living in a hotel while they search for more permanent accommodation -- and wait to rescue items from their ruined apartment.
But he says that is still no reason to leave Haifa.
"We left for a while to Tel Aviv, but...I don't think you should run, you could live with [this] for a while, it's not so dangerous if you know how to act and to be safe. It's a matter of days so I don't think you should run and stop working and stop your life."
But despite that optimism, Vaknin says "we are all worried it could be a bigger war. Bombs could fall in Tel Aviv, or [Hizballah leader Hassan] Nasrallah could attempt to frighten us."
As for the immediate future, Vaknin has one major hope -- to get married. "We're supposed to get married in a few months" in Haifa. "I hope we don't have to reschedule it."
Staying Normal
At least Vaknin and his fiancee can still stay in their apartment. Across the border in Lebanon, Rima Beydoun has been forced by Israeli air strikes to leave her home to take to the mountains.
Beydoun runs an advertising agency in Beirut. Of the agency's eight staff, Beydoun is the only one who is able to reach the office.
"I have three designers that left Lebanon for Cairo, Oman, and Dubai. My accountant is stuck in the south and unable to come to the office as she would be risking her life. I have another person in charge of customer service who used to live in the suburb that is being bombed by Israel. He decided to take his parents to Baalbek, thinking it would be safer for them there. [But] Israel was also bombing Baalbek and I lost contact with him and I don't know if he's well or anything about him."
Beydoun says she has been to the office every day except today, August 4, when Israel bombed bridges on her route.
"It's becoming more and more difficult because we're short of gas," she says. "People have to wait a minimum of 30 minutes or an hour to fill their tank. It's becoming more and more difficult to lead a normal life."
But Beydoun says she will continue to try and get to work, mostly finishing jobs she had before the offensive began.
"Our way of resisting this is...sticking to what was normal for us, meaning work and not being secluded in our homes or our shelters."
"If I give up that would mean everyone else won and we the people are the big losers in this mess. Our way of resisting this is trying to keep having a decent and normal life, by sticking to what was normal for us, meaning work and not being secluded in our homes or our shelters."
Most of Beydoun's relatives have also sought safety. One brother left for Europe with his wife, and Beydoun's parents are with her in the mountains.
Her sister has moved from Beirut for the sake of her two young children. "I had most of my childhood in wars and even my adult life," she says. Her sister "doesn't want her children to face this all over again."
For her part, Beydoun says she will not leave Lebanon unless she is forced to.
The Middle East Crisis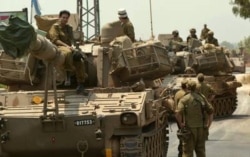 Israeli tanks poised on the border with Lebanon on August 2 (epa)
CLASH OF ARMS:
Since mid-July, Israel has been battling Hizballah guerrillas in southern Lebanon and carrying out punishing air strikes throughout the country. International efforts to broker a cease-fire have met with one obstacle after another, as civilian casualties mount and a humanitarian crisis unfolds. Since Hizballah is closely supported by Syria and Iran, the conflict threatens constantly to develop into a regional conflagration....
(more)
RELATED ARTICLES
Israel Steps Up Assault Despite Hizballah Warning
'We The People Are The Big Losers'
Iranians 'Volunteer' To Help Hizballah
Lebanon Cancels Talks After Bloody Qana Attack
The World Searches For An Elusive Solution
Analyst Says 'U.S. Needs To Talk To Syria, Iran'