He reiterated Tehran's support for the peoples of Lebanon and Palestine.
In his remarks, carried by Iran's main media outlets, Khamenei also praised Hizballah, which he said "is on the front line of the sacred defense of the Muslim ummah [community of believers] and all nations in the region."
He said Israel's attacks against Lebanon's main Shi'ite militant group "will revive the spirit of resistance in the Islamic world."
Iranian parliament speaker Gholam-Ali Haddad-Adel and Guardians Council head Ayatollah Ahmad Jannati on August 1 made similar statements, urging Muslims to show active support for Hizballah and the Lebanese people.
President Chides UN
Meanwhile, Iranian President Mahmud Ahmadinejad later today criticized the UN Security Council over its inability to secure a cease-fire in Lebanon.
Addressing residents of Jajarm, a city in northeastern Khorasan Province, Ahmadinejad said the failure to wrest a suspension of Israel's attacks against the Hizballah "is a permanent disgrace for members of the international body, including the United States."
(IRNA, Fars News Agency, ISNA, IRIB)
Iran, Syria, And Hizballah
Iran, Syria, And Hizballah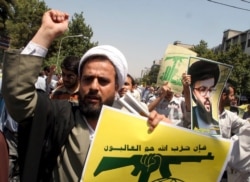 Iranians demonstrating in support of Hizballah in Tehran on July 17 (epa)

'FOR THE SAKE OF LEBANON': The Islamic Republic of Iran has served as an ideological inspiration for Hizballah since the Lebanese militant group's creation in 1982, and Tehran acknowledges that it supports the organization morally and politically. "Yes, we are friends of Syria and Iran" Hizballah leader Hassan Nasrallah has said. "For 24 years we benefited from our friendship with Syria and Iran for the sake of Lebanon...." (more)
RELATED ARTICLES
Tehran Playing Key Role In Israel-Lebanon Crisis
Iran, Hizballah Brush Off U.S. Terrorism Label
Intifada Conference In Tehran Has Multiple Objectives
UN Resolution Rankles Syria, Hizballah, Iran
ARCHIVE
RFE/RL
coverage of Iran
. RFE/RL web special on
Iran's nuclear program
.
SUBSCRIBE
For weekly news and analysis on Iran by e-mail,
subscribe to "RFE/RL Iran Report."