Jannati said he considers it the duty of Muslims to give Hizballah and the Lebanese weapons, medicine, and food, as well as publicity and political and financial support.
Iranian leaders have rejected Israel's accusations they are supplying Hizballah with money and weapons.
Foreign Minister In Beirut
Meanwhile, Iranian Foreign Minister Manuchehr Mottaki today continued his visit to Beirut with a meeting with Lebanese President Emil Lahud.
The two were expected to focus on the conflict between Israel and Lebanese Hizballah guerrillas.

Later, Mottaki is due to meet Prime Minister Fuad Siniora and parliamentary speaker Nabih Berri.

On July 31, Mottaki called for an immediate cease-fire in the Israeli-Hizballah hostilities and criticized the UN Security Council's failure to stop the crisis.

"We are disappointed in the failure of the [UN] Security Council to support the Lebanese people during the last three weeks of [Israeli] aggression," Mottaki said.

While in Beirut, Mottaki also met French Foreign Minister Philippe Douste-Blazy, who has also been talking with Lebanese politicians close to Hizballah.
Nuclear Issue
The speaker of the Iranian parliament, Gholam-Ali Haddad-Adel, today described the July 31 UN Security Council resolution ordering his country to freeze sensitive nuclear activities by the end of August as "worthless."
State-controlled media quote Haddad-Adel as criticizing the Security Council for feeling threatened by Tehran's nuclear program, while failing to strongly condemn the recent killings of Lebanese civilians -- mostly women and children -- by Israel in Qana on July 30.

(AFP, dpa, Reuters)
Iran, Syria, And Hizballah
Iran, Syria, And Hizballah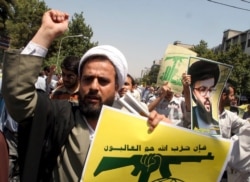 Iranians demonstrating in support of Hizballah in Tehran on July 17 (epa)

'FOR THE SAKE OF LEBANON': The Islamic Republic of Iran has served as an ideological inspiration for Hizballah since the Lebanese militant group's creation in 1982, and Tehran acknowledges that it supports the organization morally and politically. "Yes, we are friends of Syria and Iran" Hizballah leader Hassan Nasrallah has said. "For 24 years we benefited from our friendship with Syria and Iran for the sake of Lebanon...." (more)
RELATED ARTICLES
Tehran Playing Key Role In Israel-Lebanon Crisis
Iran, Hizballah Brush Off U.S. Terrorism Label
Intifada Conference In Tehran Has Multiple Objectives
UN Resolution Rankles Syria, Hizballah, Iran
ARCHIVE
RFE/RL
coverage of Iran
. RFE/RL web special on
Iran's nuclear program
.
SUBSCRIBE
For weekly news and analysis on Iran by e-mail,
subscribe to "RFE/RL Iran Report."