Day by day, the calls for an immediate cease-fire mount in European and Arab capitals.
Blair In Washington
British Prime Minister Tony Blair's visit to Washington today to discuss the crisis in the Middle East highlights the growing divide on both sides of the Atlantic regarding the hostilities.
So far, Blair has backed the U.S. position. As President George W. Bush explained on July 27, Washington's policy is that it does not want a "fake peace." The Bush administration says a cessation of hostilities is only worth achieving if it brings long-term stability on the ground -- in other words, if Hizballah's ability to attack Israel is neutralized.
The problem is that as civilian casualties mount in Israel and in Lebanon, from where Hizballah operates, fewer and fewer people share the U.S. position.
Blair -- Bush's closest ally -- is under tremendous pressure at home to reverse his stance and stop backing Washington on this issue.
Is A Cease-Fire Possible?
But it's one thing to call for an immediate cease-fire. It's another to implement it.
One commentator accused European and Arab countries this week of hitching a "moral free ride" on the Lebanon issue by criticizing the United States without having a concrete solution to offer.
Syria has indicated it would welcome high-level talks with the United States, but Washington, which considers Damascus a terrorism sponsor, is unwilling.
Above all, a truce depends on the warring sides agreeing to lay down their arms. And that seems unlikely.
"We will continue with our offensive, and I want to announce that after all the time that passed and the persistence from the Israeli enemy, we reached the stage of Haifa," said Hizballah leader Hassan Nasrallah on July 25. "But now I announce that we will be entering a stage that is beyond Haifa. So, this is a new stage that the enemy has forced upon us."
"Israel is determined to carry on the fight against Hizballah," said Israeli Prime Minister Ehud Olmert a day earlier. "We'll reach out for them; we'll stop them; and we will not hesitate to take the most severe measures against those who are aiming thousands of rockets and missiles against innocent civilians for one purpose -- to kill them. This is something that we will not be able to tolerate."
Looking To Damascus, Tehran
Many experts say no cease-fire is achievable without talking to Hizballah's two major backers, Syria and Iran.
Iran seems in no mood to negotiate. President Mahmud Ahmadinejad on July 27 said that as far as he is concerned, Israel had pressed the "self-destruct" button.
Syria has indicated it would welcome high-level talks with the United States, but Washington, which considers Damascus a terrorism sponsor, is unwilling.
Many Arab countries -- such as Egypt, Jordan, and Saudi Arabia -- appear unable to formulate a clear position.
On the one hand, popular support for Hizballah on the streets of Cairo, Amman, and Riyadh is growing. On the other hand, those countries fear Iran, and they would hate to see the Shi'ite militants emerge from this conflict victorious.
A Role For Europe?
While Europe continues to clamor for an immediate cease-fire, its leaders appear unwilling to commit any troops to the region to keep the peace.
Britain is already playing a major role in Iraq and Afghanistan.
France and Germany this week ruled out sending any soldiers on a stabilization mission to southern Lebanon, in case of a truce. French President Jacques Chirac spoke out against using NATO. He said the alliance, unfortunately, is seen in the region as "the armed wing of the West."
Both the United States and France have painful memories of the last time they sent troops to Lebanon, to try to stabilize the situation, in the early 1980s. Two hundred and forty-one U.S. Marines were killed when their headquarters were bombed in Beirut in 1983. Another strike on the French multinational force headquarters killed 58 French troops. Both attacks were blamed on Hizballah militants.
So, with no way to force the warring parties to end their battle and no plan for the aftermath, the fighting goes on.
Iran, Syria, And Hizballah
Iran, Syria, And Hizballah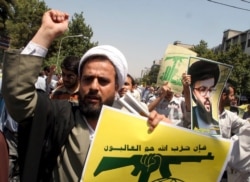 Iranians demonstrating in support of Hizballah in Tehran on July 17 (epa)

'FOR THE SAKE OF LEBANON': The Islamic Republic of Iran has served as an ideological inspiration for Hizballah since the Lebanese militant group's creation in 1982, and Tehran acknowledges that it supports the organization morally and politically. "Yes, we are friends of Syria and Iran" Hizballah leader Hassan Nasrallah has said. "For 24 years we benefited from our friendship with Syria and Iran for the sake of Lebanon...." (more)
RELATED ARTICLES
Tehran Playing Key Role In Israel-Lebanon Crisis
Iran, Hizballah Brush Off U.S. Terrorism Label
Intifada Conference In Tehran Has Multiple Objectives
UN Resolution Rankles Syria, Hizballah, Iran
ARCHIVE
RFE/RL
coverage of Iran
. RFE/RL web special on
Iran's nuclear program
.
SUBSCRIBE
For weekly news and analysis on Iran by e-mail,
subscribe to "RFE/RL Iran Report."