During a July 25 news conference with U.S. President George W. Bush, al-Maliki was asked about the Israel-Hizballah conflict. He condemned what he called Israel's "hostile acts" in Lebanon, but avoided a question about his opinion about Hizballah. Al-Maliki belongs to Iraq's Shi'ite majority, and Hizballah is a Shi'ite group.
As a matter of longstanding policy, the United States supports Israel and has officially designated Hizballah as a terrorist group. Al-Maliki's young government, meanwhile, is fighting a bloody insurgency in Iraq that he and the Bush administration equate with terrorism.
'Debt To America'
Several members of Congress took issue with al-Maliki's comments, saying he at least should have criticized Hizballah for starting the fighting with a raid into Israel on July 12. And they questioned his stand on what Bush calls the global war on terrorism.
"Iraq will not forget those who stood by it in its afflictions before
and after, and those who sacrificed themselves for its liberty." -- al-Maliki

"He said he's opposed to what Israel's doing -- defending themselves. We want him [al-Maliki] to make a statement as to how he and his government feel about Hizballah, and he needs to answer that question," Senate minority leader Harry Reid (Democrat-Nevada) said on July 25.
"He's in America, America deserves that. We've spent hundreds of billions of dollars in Iraq, we've lost more than 2,500 American soldiers, more than 20,000 wounded. We deserve that answer," Reid added.
Another senator, Charles Schumer (Democrat-New York), also criticized the prime minister's statement, saying al-Maliki "owes his office to those American lives and those American dollars. Where is he on the war on terror?"
Iraqis In The Vanguard
At the start of his address to Congress today, al-Maliki expressed his country's profound gratitude to the United States for the cost in money and lives to depose Saddam Hussein as president of Iraq in 2003 and helping his country establish a democracy.
"Let me start by thanking the American people through you and on the behalf of Iraqis for supporting Iraq to be free from dictatorship, and Iraq will not forget those who stood by it in its afflictions before and after, and those who sacrificed themselves for its liberty," he said.
Al-Maliki added that "it is our duty to defeat terror in the entire world, and Iraqis today stand in the forefront of this conflict, and history will witness that Iraqi sacrifices will not go in vain in the battle for human liberty, and Iraqis are united with the international counterterrorism front."
The war against terrorists is a battle between "true Islam" and an ideology that "wraps itself in a fake Islamic cloak," al-Maliki said.
But as he did the day before, he chose not to mention the Israel-Hizballah conflict.
Focusing On Key Issues
Some of the members of Congress who had criticized al-Maliki had threatened to boycott his address, but it wasn't immediately clear if any of them made good on the threat. Some critics joined in several standing ovations during the speech. And Reid was among those shaking the prime minister's hand after he spoke.
The White House has repeatedly said no one should be surprised that a freely elected government might occasionally disagree with certain U.S. policies, as many American allies do.
And Bush's national security adviser, Stephen Hadley, said the controversy shouldn't distract anyone's attention from the reason al-Maliki was visiting Washington, that no one misses "the opportunity to hear from this man and from his cabinet what their plan is going forward, because it's terribly important that Iraq succeed."
One of those reasons is money. In his speech to Congress -- and presumably in his conversation with Bush on July 25 -- al-Maliki asked for more assistance from the United States and other countries. He said the aid already received had been spent on security rather than the country's much-neglected reconstruction.
Al-Maliki's address was briefly interrupted by a young woman in the gallery who shouted that the United States should respect the wishes of many Iraqis and withdraw its forces from Iraq. She wore a pink T-shirt bearing the words "Troops Home Now."
The woman was escorted from the chamber without further incident.
Nuri al-Maliki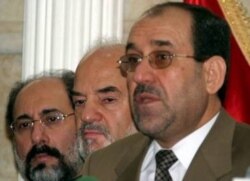 Nuri al-Maliki (epa)

NURI KAMIL AL-MALIKI (Jawad al-Maliki is a nom de guerre) was born in 1950 in the Twayrij al-Hindiyah district of Karbala.
Commonly known as Abu Isra, al-Maliki joined the Islamic Al-Da'wah Party in 1968.
He holds an M.A. in Koran and Arabic Language Studies from Salah al-Din University in Irbil.
Following a crackdown on outlawed parties by the regime of Saddam Hussien, al-Maliki fled the country in 1980, seeking asylum first in Iran and later in Syria.
While in Syria, he also published a magazine -- "Al-Mawqif" ("The Attitude") -- that became the mouthpiece of the Islamic Al-Da'wah Party.
For several years, al-Maliki served as the head of jihad and military operations for the party, subsequently becoming a member of its political bureau.
Following the liberation of Iraq, he served as deputy director of the de-Ba'athification commission established by the Coalition Provisional Authority.
In 2004, al-Maliki was elected deputy speaker of the interim National Assembly.
He played a leading role in settling the August 2004 crisis in Al-Najaf when supporters of Shi'ite cleric Muqtada al-Sadr battled coalition forces for three weeks.
In 2005, he served as chairman of the transitional National Assembly's Security and Defense Committee. He was also a member of the committe responsible for drafting Iraq's new constitution.
He has also served as a spokesman for transitional Prime Minister Ibrahim al-Ja'fari and as spokesman for the United Iraqi Alliance.
More about al-Maliki:
Premier-Designate Promises Tough Approach
Tough Challenges Face New Prime Minister


THE COMPLETE PICTURE: Click on the image to view RFE/RL's complete coverage of events in Iraq and that country's ongoing transition.