His statement came shortly after Israeli aircraft bombed the village of Qana in southern Lebanon, killing as least 56 people, including some 20 children.
The United Nations Security Council announced it will hold an emergency meeting today on the ongoing Israel-Hizballah conflict.
Rice's Beirut Talks Cancelled
Siniora told U.S. Secretary of State Condoleezza Rice, who is in Israel for talks on ways to end the fighting in Lebanon, that he could not meet her before Israel agreed to a cease-fire.
"There is no place this sad morning for any discussion other than an immediate and unconditional cease-fire, as well as an international investigation into the Israeli massacres in Lebanon now," Siniora said.
Rice told journalists today that she had spoken with Siniora by telephone from Jerusalem, where she held talks with Israeli Prime Minister Ehud Olmert.
"I just spoke by telephone with Prime Minister Siniora and conveyed my condolences personally to him, to the people of Lebanon," Rice said. "In the wake of the tragedy that the people and the government of Lebanon are dealing with today, I have decided to postpone my discussions in Beirut. In any case, my work today is here. I will continue to meet with Israeli officials as we work to put in place the elements necessary to bring an end to this conflict."
In the Palestinian territory, the armed wing of Palestinian Authority President Mahmud Abbas's Fatah faction said today it will target the United States and other Western countries after the deadly Israeli raid on Qana.
Rescuers are still combing through the rubble in Qana looking for survivors. The destruction is spread far and wide, with bodies scattered among the shattered fragments and twisted metal.
Many of the dead had been sheltering in a basement when the planes hit.
"They hit us with their warplanes at one or two in the morning when we were sleeping," said one survivor.
The Israeli military said it had warned residents of Qana to leave the town and said Hizballah bore responsibility for the tragedy because it had been using the town to fire rockets at Israel.
The Israeli strike came just hours after Hizballah leader Hassan Nasrallah threatened to fire more rockets into central Israel if the Israeli offensive continued.
It also comes as Rice arrived in the region for talks with Israeli and Lebanese leaders on ending the violence. She had hoped to raise the possibility of deploying an international force along the border zone dividing southern Lebanon and Israel, but her chances of success -- never high -- now look remote.
'Heinous Crimes'
Siniora's comments suggest a hardening of the Lebanese government's line.
The persistence of Israel in what he called "its heinous crimes" against Lebanese civilians would not break the will of the people. Now, he said, was the time for unity "in the face of the Israeli war criminals."
In the Palestinian territory, the armed wing of Palestinian Authority President Mahmud Abbas's Fatah faction said today it will target the United States and other Western countries after the deadly Israeli raid on Qana.
A statement from the Al-Aqsa Martyrs' Brigades today said from now on it considers the United States and "certain other Western countries" targets.
Parliamentary deputy Mushir al-Masri, of the Hamas party, said that in the face of what he called open war against the Arab and Muslim countries all options are open. Asked if that means suicide bombings against Israelis, Masri said that "every means is allowed."
Demonstration In Beirut
Lebanese protesters broke into the United Nations headquarters in Beirut today, smashing windows and ransacking offices.
The protesters tore down a UN flag outside the building and ripped it to shreds while others used heavy objects to smash the building's windows and glass doors.
Protesters waived Lebanese flags and the flags of several political parties, including the yellow standard of Hizballah.
International Condemnation Of Israel
France, Britain, the European Union, and Jordan are among those condemning the Qana strike. Jordan's King Abdullah called Qana "an ugly crime," and France has drawn up a draft UN Security Council resolution calling for an immediate cessation of hostilities.
Syrian President Bashar al-Assad described the attack as "state terrorism."
As fighting continued today, Israel also pounded the town of Khiam, while Israeli tanks were reported massing near the Israeli border village of Metula.
Israel's Olmert said today he regrets the civilian deaths, but said Israel's offensive to drive out Hizballah guerrillas from southern Lebanon needs to continue for "10 days to two weeks."
UN Peacekeepers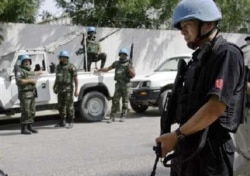 UN peacekeepers in Haiti in February 2006 (AFP)
MISSION
In cases in which international intervention in regional conflicts is deemed necessary, peacekeeping missions authorized by the UN Security Council provide legitimacy by demonstrating the commitment of the international community to address such crises.
MANDATE
UN peacekeeping missions are prepared, managed, and directed by the UN's Department of Peacekeeping Operations. The unique mandates of peacekeeping missions falls under the authority of the UN's Security Council and General Assembly, and under the command of the UN secretary-general.
MONEY
Funding for UN peacekeeping missions is provided by UN member states. All are legally obliged to pay a share under an established formula. The leading financial providers as of 2006 were: the United States, Japan, Germany, the United Kingdom, France, Italy, Canada, Spain, China, and the Netherlands.
MORE
All UN peacekeeping missions share the goals of alleviating human suffering and creating conditions for self-sustaining peace. Missions can consist of armed or unarmed military components, depending on their mandate, and various civilian tasks.
Military operations can include:
· Deploying to prevent the outbreak of conflict or the spillover of conflict across borders;
· Stabilizing conflict situations after a cease-fire in order to create an environment for the parties to reach a lasting peace agreement;
· Assisting in implementing comprehensive peace agreements;
· Leading states or territories through a transition to stable government, based on democratic principles, good governance, and economic development.
HISTORY
There have been 60 peacekeeping operations since 1948. Fifteen peacekeeping missions were in operation in mid-2006, employing more than 60,000 troops, 7,000 police, and over 2,500 military observers. Peacekeeping operations in 2006 were supported by uniformed personnel provided by 109 countries.
(source: UN Department of Peacekeeping Operations)
RELATED ARTICLES
Middle East: UN Mulls New International Force For Lebanon
Georgia: Issue Of Russian Peacekeepers Heats Up
UN: U.S. Presses For Peacekeeper Deployment To Darfur