Speaking to reporters en route to Malaysia, Rice said Syria should not be allowed to regain influence in Lebanon and accused Iran of supporting "extremist elements."
Neither Iran nor Syria was invited to take part in a July 26 international conference on the Lebanon crisis in Rome.
Syria Comments On Rome Conference
Syria's UN ambassador said on July 26 the country feels snubbed after not being invited to the Rome conference.
Bashar Ja'afari said the conference was wrong to discuss the possibility of a multinational force and should have focused on what he said was the "core issue" -- Israel's occupation of surrounding lands.
Other notable absentees were Israel, Iran, and Hizballah.
Security Council Split
In New York, the UN Security Council failed to reach agreement on the text of a statement condemning the killing of four UN personnel in Lebanon by an Israeli air strike on July 25.
China, which lost one of the four observers in the attack, proposed the text.
But council members became deadlocked late on July 26 after the United States blocked language it deemed reproachful of Israel.
Washington objected to language condemning "any deliberate attack against UN personnel."
Shortly after the attack, UN Secretary-General Kofi Annan said the attack was in his words "apparently deliberate targeting."
But Israel has strongly denied that.
The debate was adjourned until later today. For the statement to be approved, all 15 council members need to sign off on it.
(compiled from agency reports)
Iran, Syria, And Hizballah
Iran, Syria, And Hizballah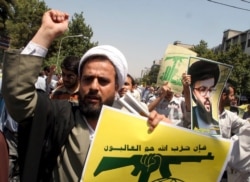 Iranians demonstrating in support of Hizballah in Tehran on July 17 (epa)

'FOR THE SAKE OF LEBANON': The Islamic Republic of Iran has served as an ideological inspiration for Hizballah since the Lebanese militant group's creation in 1982, and Tehran acknowledges that it supports the organization morally and politically. "Yes, we are friends of Syria and Iran" Hizballah leader Hassan Nasrallah has said. "For 24 years we benefited from our friendship with Syria and Iran for the sake of Lebanon...." (more)
RELATED ARTICLES
Tehran Playing Key Role In Israel-Lebanon Crisis
Iran, Hizballah Brush Off U.S. Terrorism Label
Intifada Conference In Tehran Has Multiple Objectives
UN Resolution Rankles Syria, Hizballah, Iran
ARCHIVE
RFE/RL
coverage of Iran
. RFE/RL web special on
Iran's nuclear program
.
SUBSCRIBE
For weekly news and analysis on Iran by e-mail,
subscribe to "RFE/RL Iran Report."