Israeli warplanes have launched more than 100 strikes on southern Beirut and across southern Lebanon today, and artillery has pounded areas close to the border, where Israeli and Hizballah soldiers battled for control.
At least two Lebanese civilians and one soldier were reported killed in the air raids, and Al-Arabiya television says five Israeli soldiers were killed fighting near the southern village of Markaba.
Israel has not commented on the reports.
In strikes north of Beirut, Israeli warplanes destroyed four bridges and cut off the highway heading north.
The latest assault follows the death of eight Israeli soldiers and four civilians on August 3, when Hizballah fired more than 100 rockets on Israel in less than one hour.
It was Israel's deadliest day since fighting began three weeks ago, following Hizballah's abduction of two Israeli soldiers in a cross-border raid.
In an address on Hizballah's Al-Manar television on Thursday, the Shi'ite militia's leader, Hassan Nasrallah, offered Israel a deal, saying that "if at any time you decide to stop your campaigns on our cities, villages, civilians, and infrastructure, we will not strike with rockets any settlement or Israeli city."
But Nasrallah told Israel that if it extended its attacks beyond southern Beirut to the rest of the Lebanese capital, "the Islamic Resistance will strike Tel Aviv, and it is able to do so with the help of God."
Israel, which is seeking to clear southern Lebanon of Hizballah and prevent future rocket attacks, says it has carved out a buffer zone extending seven kilometers back from the border and containing 20 villages.
The Israeli army, which has 10,000 soldiers in the area, says it will expand the area to 15 kilometers into Lebanon, if authorized to do so by the government.
Meanwhile, at the United Nations, the 15-nation Security Council powers will hold a briefing on Lebanon later today. Reports say the council will seek to agree on a resolution calling for a cease-fire. However, diplomats caution that no deal is likely until next week.

The Middle East Crisis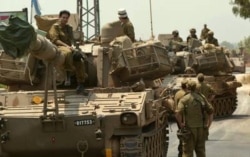 Israeli tanks poised on the border with Lebanon on August 2 (epa)
CLASH OF ARMS:
Since mid-July, Israel has been battling Hizballah guerrillas in southern Lebanon and carrying out punishing air strikes throughout the country. International efforts to broker a cease-fire have met with one obstacle after another, as civilian casualties mount and a humanitarian crisis unfolds. Since Hizballah is closely supported by Syria and Iran, the conflict threatens constantly to develop into a regional conflagration....
(more)
RELATED ARTICLES
Israel Steps Up Assault Despite Hizballah Warning
'We The People Are The Big Losers'
Iranians 'Volunteer' To Help Hizballah
Lebanon Cancels Talks After Bloody Qana Attack
The World Searches For An Elusive Solution
Analyst Says 'U.S. Needs To Talk To Syria, Iran'