Meeting in the Malaysian city of Putrajaya, the OIC is meeting to deal with the growing conflagration as Israel battles Hizballah fighters. Participants called in their concluding statement for a special UN investigation into what they consider to be flagrant human rights violations by Israeli forces.
Ahmadinejad Denounces Israel, West
His country is a Hizballah sponsor, and Iranian President Mahmud Ahmadinejad called in November 2005 for Israel to be "wiped off the map." Today, Ahmadinejad suggested that the "main cure" for crisis in the Middle East is the elimination of Israel. But he added that "at this stage, an immediate cease-fire must be implemented."
"It is taking an enormous toll on human life and infrastructure, and has totally ravaged our country and shattered our economy." -- Lebanese Prime Minister Fuad Siniora
He also called on Islamic countries to react to Israeli actions in Lebanon and the Palestinian territories by isolating the Jewish state and its supporters. He said open and back-channel ties to Israel should be abandoned. Many Islamic countries do not have diplomatic ties with Israel.
Ahmadinejad also said countries should isolate the United States, Great Britain, and other governments that support Israel and its actions in Lebanon. He said they should also be made to answer for what he called "their crimes" in Lebanon.
Less Radical Voices
Other leaders attending the OIC meeting also voiced opposition to the Israeli offensive in Lebanon and warned that its continuation could have disastrous consequences.
Pakistan's Prime Minister Shaukat Aziz said hostilities must be halted "before the spiraling violence engulfs the entire region and kills the hope for a durable and just peace in the Middle East."
"The solution is to have an immediate cease-fire, to hear the fundamental reasons for why this conflict arose, and try to solve them through discussion and dialogue," Aziz added. "We're all committed to that, and we know that this process will result in a viable settlement."
President Susilo Bambang Yudhoyono of Indonesia, the world's most populous Muslim country, also called for an end to the conflict. Yudhoyono warned that the "war" in Lebanon could "radicalize the Muslim world," including moderates like himself.
The Turkish head of the OIC, Ekmeleddin Ihsanoglu, said that anger is spreading across the Muslim world over Israel's continuing offensive against Hizballah guerrillas in Lebanon, and that "there is a consensus on making a strong appeal for immediate cease-fire."
UN Security Council Attacked
The OIC participants issued a concluding statement expressing outrage at what they called international "double standards" over the Israeli offensive. They also demanded that Israel compensate Lebanon for the resulting losses.
The statement criticizes the UN Security Council for allegedly failing to "fulfill its responsibility for the maintenance of international peace and security" and demands that a cease-fire be imposed.
Host Prime Minister Abdullah Ahmad Badawi of Malaysia called on Muslim countries to be prepared to commit forces to a proposed UN peacekeeping force in Lebanon.
Lebanese Prime Minister Fuad Siniora said today in a video message to the OIC gathering that Israel's offensive has so far killed more than 900 people and injured 3,000.
"It is taking an enormous toll on human life and infrastructure, and has totally ravaged our country and shattered our economy," Siniora added.
Siniora said one-third of Lebanon's casualties have been children under the age of 12.
The one-day emergency OIC summit came more than three weeks after Israel launched its offensive against Hizballah in Lebanon amid growing international pressure to seek a halt to the bloodshed.
Iran, Syria, And Hizballah
Iran, Syria, And Hizballah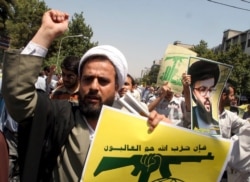 Iranians demonstrating in support of Hizballah in Tehran on July 17 (epa)

'FOR THE SAKE OF LEBANON': The Islamic Republic of Iran has served as an ideological inspiration for Hizballah since the Lebanese militant group's creation in 1982, and Tehran acknowledges that it supports the organization morally and politically. "Yes, we are friends of Syria and Iran" Hizballah leader Hassan Nasrallah has said. "For 24 years we benefited from our friendship with Syria and Iran for the sake of Lebanon...." (more)
RELATED ARTICLES
Tehran Playing Key Role In Israel-Lebanon Crisis
Iran, Hizballah Brush Off U.S. Terrorism Label
Intifada Conference In Tehran Has Multiple Objectives
UN Resolution Rankles Syria, Hizballah, Iran
ARCHIVE
RFE/RL
coverage of Iran
. RFE/RL web special on
Iran's nuclear program
.
SUBSCRIBE
For weekly news and analysis on Iran by e-mail,
subscribe to "RFE/RL Iran Report."