Troops Pledged For UN Lebanon Mission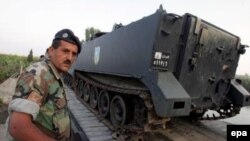 Lebanese troops cross the Litani River in the city of Tyre on August 17 (epa) August 18, 2006 -- Several countries have offered troops for an expanded UN peacekeeping mission in Lebanon.
Diplomats say firm pledges came from some eight countries, including Bangladesh, Indonesia, and Malaysia.
Speaking after the UN talks, Deputy Secretary-General Mark Malloch Brown said much remained to be done. But he said he was optimistic the force was taking shape.
"We''re pretty convinced we''ve got the elements here of a strong force which is very multilateral in character, but well able to do the task it will be given.," he said.
Once deployed, the UN force of up to 15,000 troops is to work alongside Lebanese soldiers, who began
taking control of southern Lebanon
for the first time in four decades on August 17.
(AFP, AP, Reuters)