PRAGUE, August 18, 2006 (RFE/RL) -- Initial offers of troops are coming in from a number of countries as the United Nations races to deploy a strengthened force in south Lebanon to cement the fragile truce that came into force on August 11.
The offers are boosting the world body's hopes of dispatching an initial reinforcement of 3,500 soldiers to join the 2,000-strong UN Interim Force in Lebanon (UNIFIL) that has long been in the country.
But European states have yet to contribute large numbers of troops as questions persist over the details of the strengthened force's mandate.
Pledges to send sizeable numbers of troops have so far come in from Bangladesh, Indonesia, Malaysia, and Nepal.
"We had hoped -- we make no secrets of it -- that there would be a stronger French contribution."
These countries are pledging one to two battalions each. As a battalion numbers some 500 men, the numbers of troops for the strengthened UN force are adding up quickly.
That makes UN officials optimistic they will be able to get some 3,500 soldiers to southern Lebanon within two weeks.
Such a rapid dispatch would help the UN match the deployment of Lebanese government troops into South Lebanon and speed Israeli troop withdrawals from the region.
Under the UN resolution that ended a month of fighting between Israel and Lebanon, 15,000 Lebanese government and 15,000 UN forces are to deploy in the south, taking control of areas now held by Israeli forces.
European Powers Are Wary
But a key element in the formula is still missing. "We had hoped -- we make no secrets of it -- that there would be a stronger French contribution," UN Deputy Secretary-General Mark Malloch Brown said on August 17, following talks with representatives of some 49 countries about potential contributions. "But I think we're happy with what they've given us."
France, which has agreed to lead the strengthened UN force, said it is ready to commit only 200 troops immediately.
France says it is hesitating over concerns that details of the mandate and composition of the new force remain unclear.
"When you send a force without its mission being clearly defined, without its resources being adapted and large enough, that can lead to a catastrophe, including for the soldiers we send," French Defense Minister Michele Alliot-Marie explained on August 16.
Italy, Spain, and Belgium are also hesitating. Like France, they want clear rules of engagement for their forces.
Press reports say the draft rules of engagement call for "the use of force to prevent the UNIFIL area of deployment and operations being used for hostile activities." But it is not clear who -- Lebanese troops or UN troops -- would be responsible for disarming Hizballah.
The UN resolution calls for the militia to disarm in line with international agreements. But the Lebanese Shi'ite militia has said it will not disarm even though it welcomes the Lebanese government and UN troop deployments.
Germany Offers To Patrol The Mediterranean
The UN has particularly tried to persuade European powers and Turkey to contribute units to the initial 3,500-troop reinforcement of UNIFIL because their heavy firepower could discourage any hostile challenges.
Meanwhile, Britain, Denmark, and Germany have agreed to send ships to police Lebanon's Mediterranean coast for arms smuggling.
"When you send a force without its mission being clearly defined,... that can lead to a catastrophe."
Germany's ambassador to the United Nations, Thomas Matussek, said on August 17 that Germany has offered "a rather substantive maritime component that is so encompassing that it could patrol and secure the whole of the Lebanese coast to make sure that no weapon or other related materials get into Lebanon."
Berlin has ruled out sending ground troops. That is partly out of sensitivities both at home and in Israel over the possibility that German troops might become involved in firing on Jewish soldiers. Memories of World War II remain strong in both countries.
Meanwhile, Israel's ambassador to the UN, Dan Gillerman, says Israeli rejects the deployment of troops from countries like Indonesia and Malaysia that do not have diplomatic relations with Israel.

UN Peacekeepers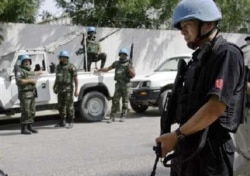 UN peacekeepers in Haiti in February 2006 (AFP)
MISSION
In cases in which international intervention in regional conflicts is deemed necessary, peacekeeping missions authorized by the UN Security Council provide legitimacy by demonstrating the commitment of the international community to address such crises.
MANDATE
UN peacekeeping missions are prepared, managed, and directed by the UN's Department of Peacekeeping Operations. The unique mandates of peacekeeping missions falls under the authority of the UN's Security Council and General Assembly, and under the command of the UN secretary-general.
MONEY
Funding for UN peacekeeping missions is provided by UN member states. All are legally obliged to pay a share under an established formula. The leading financial providers as of 2006 were: the United States, Japan, Germany, the United Kingdom, France, Italy, Canada, Spain, China, and the Netherlands.
MORE
All UN peacekeeping missions share the goals of alleviating human suffering and creating conditions for self-sustaining peace. Missions can consist of armed or unarmed military components, depending on their mandate, and various civilian tasks.
Military operations can include:
· Deploying to prevent the outbreak of conflict or the spillover of conflict across borders;
· Stabilizing conflict situations after a cease-fire in order to create an environment for the parties to reach a lasting peace agreement;
· Assisting in implementing comprehensive peace agreements;
· Leading states or territories through a transition to stable government, based on democratic principles, good governance, and economic development.
HISTORY
There have been 60 peacekeeping operations since 1948. Fifteen peacekeeping missions were in operation in mid-2006, employing more than 60,000 troops, 7,000 police, and over 2,500 military observers. Peacekeeping operations in 2006 were supported by uniformed personnel provided by 109 countries.
(source: UN Department of Peacekeeping Operations)
RELATED ARTICLES
Middle East: UN Mulls New International Force For Lebanon
Georgia: Issue Of Russian Peacekeepers Heats Up
UN: U.S. Presses For Peacekeeper Deployment To Darfur