Although the issue was not formally discussed at the meeting featuring interior ministers from a number of EU countries, ministers and officials in their private comments acknowledged it is considered by some as a promising way to help prevent future terrorist attacks.
"Now, positive profiling, I think, is precisely called [that] because it is precisely [about] avoiding negative profiling."
British papers suggest the French, German, and Dutch ministers could be supportive of the idea. U.K. Home Secretary John Reid has denied plans to introduce "ethnic profiling," but prominent members of the Muslim community in Britain have already voiced their concern.
'Positive' Profiling
As the London meeting concluded on August 16, EU Home Affairs and Justice Commissioner Franco Frattini hit out against the idea. He said he is opposed to any screening of passengers based on the color of their skin or any other "negative" characteristics. Instead, Frattini called for "positive profiling."
Frattini's spokesman Friso Roscam Abbing explained in Brussels on August 17 what the EU commissioner meant by this.
"Now, positive profiling, I think, is precisely called [that] because it is precisely [about] avoiding negative profiling," Roscam Abbing said. "So, this would ensure that what initially, I think, in some projects were called 'trusted travelers' -- but this is obviously a wrong term because other travelers are, in principle, also trusted -- but those bona fide travelers who have proven in the past to be bona fide travelers, legitimate travelers, if you like, with no wrong intentions, that they could benefit from smooth airport security checks."
Roscam Abbing said Commissioner Frattini wants European Commission officials to study a "pilot project" already being operated by Schiphol Airport in the Netherlands. Special arrangements are in place there to allow passengers who have voluntarily undergone stringent background checks easier passage through security checks.
If successful, the European Commission could sponsor similar projects across the EU.
Questions Of Discrimination
Commission officials were unable to say on August 17 if mooted member-state plans to utilize "ethnic profiling" are allowed under EU antidiscrimination laws.
However, spokesman Roscam Abbing said EU rules normally afford member states wide "leeway" in interpretation. For example, most relevant EU laws routinely contain "public order" provisions, which member states can relatively easily invoke to justify rights infringements.
The European Commission does, however, share growing concerns within the EU that the union's Muslim population has been allowed to veer away from mainstream norms and values.
Immigrants Must Adhere To 'Values'
Roscam Abbing said on August 17 that the ministers present at the London meeting had "unequivocally" agreed that exceptions must be made when it comes to the observance of basic EU values and laws among immigrant communities.
"What was unequivocally, again, agreed upon by all [ministers] present -- it may be a cliche, but I think it is important to repeat -- is that there should be no ambiguity whatsoever [on the part of] any [immigrant], any foreigner, if you like, living on the territory of [an EU] member state that they should fully comply with the national laws, EU laws, and with the fundamental values upon which the EU and its member states are based," he said.
These basic rules, Roscam Abbing said, include full respect for the rule of law, democracy, human rights, the rights of minorities, and the equality of men and women.
He said it was particularly important that religious leaders are "absolutely clear on the need to adhere to these values."
Roscam Abbing said the issue had been broached at the August 16 meeting in London. The ministers present, together with Commissioner Frattini, had agreed to look at "whether it is possible and politically desirable" to institute a Europe-wide "training program" for imams to make sure their preaching is in line with EU and member-state laws.
Presently, integration policy for immigrants remains a member-state prerogative. Some EU countries already operate national "curricula" for their imams.
Countries such as Britain and France have already expelled imams whose preaching has been found to incite hatred and radicalization among local Muslims.
Clash Of Cultures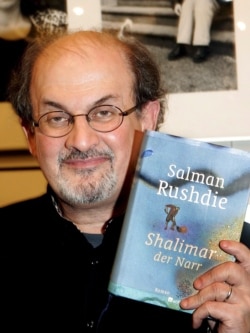 Indian-born writer Salman Rushdie (epa file photo)


The furor raised by the publication in Europe of cartoons believed by many Muslims to be insulting to Islam is far from being the first time that Western notions of freedom of expression have clashed with Islamic sensibilities. Below are a few of the major incidents in this long-running tension.
2005: London's Tate Britain museum removes from exhibition the "God Is Great #2" sculpture by John Latham for fear of offending Muslims, citing the "sensitive climate" after 7 July suicide bombings in London. The sculpture piece consists of three sacred religious texts -- the Koran, the Bible, and the Talmud -- embedded in a sheet of glass.
2004: Dutch filmmaker Theo van Gogh is murdered after release of his film "Submission" about violence against women in Islamic societies. Ayaan Hirsi Ali, a Somali-born member of Dutch parliament who wrote script, plans another film about Islam's attitude to gays. She has also received death threats.
2002: Nigerian journalist Isioma Daniel incenses Muslims by writing in "This Day" newspaper that Prophet Muhammad would have approved of the "Miss World" contest and might have wed a beauty queen. Muslim-Christian riots in northern city of Kaduna kill 200. Daniel flees Nigeria after a fatwa urges Muslims to kill her.
1995: An Egyptian court brands academic Nasr Hamed Abu Zaid an apostate because of his writings on Islam and annuls his marriage on grounds that a Muslim may not be married to an apostate. Abu Zaid and his wife move to the Netherlands.
1994: Taslima Nasreen flees Bangladesh for Sweden after court charges her with "maliciously hurting Muslim religious sentiments." Some Muslims demand she be killed for her book "Lajja" (Shame), banned for blasphemy and suggesting free sex.
1989: Iranian leader Ayatollah Ruhollah Khomeini calls on all Muslims to kill British author Salman Rushdie for blasphemy against Islam in his book "The Satanic Verses."
(compiled by RFE/RL)
See also:
Dutch Immigration -- The Death Of Multiculturalism
Report Says No Anti-Muslim Backlash In Europe
Vienna Conference Ends With Appeals For Understanding, Tolerance
A thematic webpage devoted to issues of religious tolerance in RFE/RL's broadcast region and around the globe.