Another threat, this time targeting trans-Atlantic passenger planes, has allegedly been averted, and those involved once again appear to be mainly young British-born Muslims.
Now, in the wake of last week's scare, Britons of all walks of life are debating what is behind the rise of such extremist groups.
"I don't believe there is any deprivation, there is any segregation. No, this is what we do ourselves. I mean nobody forced me to go and stay in Bradford."
Some British Muslim experts argue that the roots of the problem are economic.
"Governments ought to be tackling the whole issue of social exclusion," says Ghayasuddin Siddiqui, the leader of the Muslim Parliament and the director of the Muslim Institute. "If, obviously, nothing is done, then, of course, people, Muslim youth living in their own ghettos, will find some demagogues who will exploit the situation. This is precisely what has happened."
Utopian Ideals, Not Poverty
Other experts concur that the deprivation and the self-imposed seclusion of the Muslim ghettoes need to be tackled. But not all agree that these economic and social factors are the main ideological cause of terrorism.
"I think it's clear from the profiles that have been done of the July 7 [2005] bombers that socioeconomic deprivation was not a major factor or even indeed a significant factor in their motivation," says Paul Wilkinson, who chairs the Center for the Study of Terrorism and Political Violence at the University of St. Andrews in Scotland.
"They appear to have been inculcated with Al-Qaeda ideology and were committing these actions because they believed they were waging part of a global holy war," he adds.
Wilkinson says that the young Muslim Britons behind last year's suicide attack in London came from better-off families. And some of the 24 alleged terrorists arrested last week had relatively prosperous professions.
According to Wilkinson, the ideology of the terrorists is in many ways similar to other terrorist groupings of the past century.
"They have this illusion, which many terrorists have, of course, in all sorts of movements, that somehow terror will be the magic weapon for undermining their enemies, and ultimately defeating them, and [in this case] enabling them to set up some kind of international caliphate, a pan-Islamist state," he says.

Foreign Policy To Blame?

Some British Muslims and their organizations blame Britain's foreign policy for the growth of terrorism. They want it changed and presented their position in an open letter to Prime Minister Tony Blair on August 12.

They criticize Britain's involvement in Iraq and blame Blair for such steps as not calling for an immediate cease-fire in the Israel-Lebanon war that raged over the past four weeks.


Imam Ibrahim Mogra, one of the leaders of the Muslim Council of Britain, says that the signatories of the letter do not claim foreign policy is the only reason why young people embrace extremism. But he says there is no doubt many young Muslims are angered by the government's positions.
"But clearly, this seems to be one of the major issues that is brought up especially by younger people every time we have dialogue with them," Mogra says. "They are extremely angry about our foreign policy, about the double standards with which we treat different countries."
The government, opposition politicians, and some media have sharply criticized the open letter. They see it as seeking to appease extremists by suggesting the country's policy should change just because some people take up arms against Britain.
Lack Of Assimilation
Some experts say that the new extremism is rooted in the stricter interpretations of Islam that characterize many Pakistani and Bangladeshi immigrants. They say that makes assimilation of these groups into mainstream secular British life difficult.
Statistics show Pakistani and Bangladeshi immigrants have made up the majority of the British Muslim immigrants in recent decades and that they often opt for life in their own community-based areas.
"I think this is a cultural problem of a particular [kind of] Muslim, not all Muslims," says Alireza Nourizadeh, who chairs the Arab-Iranian Studies Center in London. "I don't believe there is any deprivation, there is any segregation. No, this is what we [Muslims] do ourselves. I mean nobody forced me to go and stay in [heavily Muslim-populated] Bradford."
As groups live in distinct community areas, there is also the possibility that some members continue to be influenced by events in their ancestral homelands.
Kashmiri Link?
Many Pakistani migrants to Britain originally came from Kashmir, a predominantly Muslim region that is divided between Pakistan and India. In the Indian-controlled part, Muslim groups have for years waged a guerrilla war against New Delhi.
The British government is now exploring whether the group of Britons arrested last week in the airplane-bombing plot had links to an extremist Pakistan-based charity supporting Muslim fighters in Kashmir.
If so, it could indicate that the motives for some radicals may lie in foreign as much as domestic issues -- things extremist groups may deliberately confuse to recruit new members for their global "holy war."
Experts say the challenge for the future is to address the multiple problems facing the British Muslim community -- particularly that of Pakistani ancestry -- even if it is impossible to know precisely where they originate.
Wilkinson says the goal should be to actively integrate this group -- like other previous groups of immigrants -- into British society by emphasizing the values of democracy and the rule of law.
That, experts agree, will require a long-term effort and a sustained government commitment. But the cost of not doing so makes inaction an increasingly poor option.
Clash Of Cultures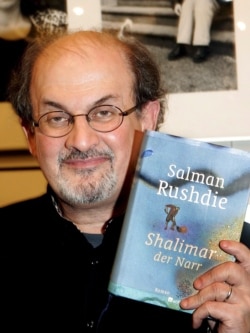 Indian-born writer Salman Rushdie (epa file photo)


The furor raised by the publication in Europe of cartoons believed by many Muslims to be insulting to Islam is far from being the first time that Western notions of freedom of expression have clashed with Islamic sensibilities. Below are a few of the major incidents in this long-running tension.
2005: London's Tate Britain museum removes from exhibition the "God Is Great #2" sculpture by John Latham for fear of offending Muslims, citing the "sensitive climate" after 7 July suicide bombings in London. The sculpture piece consists of three sacred religious texts -- the Koran, the Bible, and the Talmud -- embedded in a sheet of glass.
2004: Dutch filmmaker Theo van Gogh is murdered after release of his film "Submission" about violence against women in Islamic societies. Ayaan Hirsi Ali, a Somali-born member of Dutch parliament who wrote script, plans another film about Islam's attitude to gays. She has also received death threats.
2002: Nigerian journalist Isioma Daniel incenses Muslims by writing in "This Day" newspaper that Prophet Muhammad would have approved of the "Miss World" contest and might have wed a beauty queen. Muslim-Christian riots in northern city of Kaduna kill 200. Daniel flees Nigeria after a fatwa urges Muslims to kill her.
1995: An Egyptian court brands academic Nasr Hamed Abu Zaid an apostate because of his writings on Islam and annuls his marriage on grounds that a Muslim may not be married to an apostate. Abu Zaid and his wife move to the Netherlands.
1994: Taslima Nasreen flees Bangladesh for Sweden after court charges her with "maliciously hurting Muslim religious sentiments." Some Muslims demand she be killed for her book "Lajja" (Shame), banned for blasphemy and suggesting free sex.
1989: Iranian leader Ayatollah Ruhollah Khomeini calls on all Muslims to kill British author Salman Rushdie for blasphemy against Islam in his book "The Satanic Verses."
(compiled by RFE/RL)
See also:
Dutch Immigration -- The Death Of Multiculturalism
Report Says No Anti-Muslim Backlash In Europe
Vienna Conference Ends With Appeals For Understanding, Tolerance
A thematic webpage devoted to issues of religious tolerance in RFE/RL's broadcast region and around the globe.