Washington has raised its threat to "severe," also the highest level, for flights from the United Kingdom to the United States and "high" for all other flights. British antiterrorist police have detained 24 people in connection with the suspected plot to bring down passenger planes.
Meanwhile, police are combing through homes and businesses across England today as the investigation deepens into the alleged terror plot.
Ed Balls, economic secretary at the British Treasury, says the decision to freeze the U.K. assets of 19 of the detainees was made on the advice of the police and security services. Most are London residents in their 20s.
Security chiefs say they had been observing the group planning the attack for several months. The plan, they say, was to detonate liquid explosives carried onto flights in hand luggage. It is believed the group had targeted 10 planes, all of them bound for cities in the United States.
Michael Chertoff, head of the U.S. Homeland Security Department, said the suspected terrorists had intended to carry the explosive ingredients onto planes in disguised forms, "including liquid explosive ingredients and detonating devices disguised as beverages, electronic devices, or other common objects."
U.S. President George W. Bush, speaking on August 10 in Wisconsin, saw the arrests as proof that the United States should not drop its guard in the war on terror. "The recent arrests that our fellow citizens are now learning about are a stark reminder that this nation is at war with Islamic fascists who will use any means to destroy those of us who love freedom," he said.
Travel Chaos
The announcement of the plot and the introduction of heightened security measures caused chaos at British airports as flights were canceled and passengers were closely searched and ordered to dispose of any carry-on liquids.
Despite the tougher security, it is expected that most British airports will be operating closer to normal today.
Britain's main air hub, Heathrow, says it expects almost all long-haul flights to be running as usual, although some flights to the United States will be subject to delays.
U.S. ABC television has reported that five suspects are still at large in Britain and being urgently sought by the police. The British police, though, say they are confident they are holding all of the main figures.
Pakistani Connection
Reports suggest that most, if not all, of those involved in the plot were British-born and that some of them may have had close links to Pakistan.
Echoing news reports, French Interior Minister Nicholas Sarkozy said the group arrested "appears to be of Pakistani origin," but he did not give a source for why he believed this. Britain's Home Office, which announced the arrests, has refused to comment.
Late on August 10, officials in Pakistan said they had given the British government information to aid in the investigation and had arrested two Britons of Pakistani descent a week ago in connection with the plot. A Foreign Ministry spokeswoman said Pakistan played a "very important role in uncovering and breaking this international terrorist network."
'Necessary Steps'
A spokesman for Tony Blair said the British prime minister had briefed Bush on the situation.
Bush said tightened airport security will cause problems for summer holidaymakers, but said the measures are necessary for safe air travel.
"Travelers are going to be inconvenienced as a result of the steps we've taken," he said. "I urge their patience and ask them to be vigilant. The inconvenience occurs because we will take the steps necessary to protect the American people."
The announcement of the plot comes 13 months after four British Islamist suicide bombers wreaked havoc on the London transport system, killing 52 people and injuring hundreds.
Expert Commentary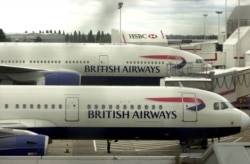 Aircraft parked at London's Heathrow Airport (epa file photo)
THE LIQUID THREAT.
RFE/RL correspondent Richard Solash spoke with Crispin Black, an independent, London-based intelligence analyst, about the would-be bombers' capabilities and the ability of detection devices to counter them.
RFE/RL: What is known so far about the techniques the bombers planned to use? What was the nature of the liquid explosives involved?
Crispin Black: I think what we know so far -- and there's a lot of speculation about this -- is that that they have managed to make, if you will, a small technological step forward, and they've managed to develop new techniques to disguise liquid explosives so that they could be gotten onto a plane. One of the techniques [that] they might be using is the so-called binary technique, and that is when you have two chemicals that on their own are benign, but when put together, they have an explosive capacity. And it's possible that those two comparatively benign chemicals would be transported independently by two different people onto a plane, and then married up, as in a chemistry lab, actually in the air.
RFE/RL: What are possible detonation systems for such an explosive?
Black: There seem to be two detonation systems that are being talked about. One is some sort of electronic method, which would be what you would traditionally expect, either from a key fob or from some sort of I-pod or something like that -- in other words, something with an electrical charge that could be hooked up to do it. Some, I understand -- some explosives -- can just be detonated by delivering a sharp shock to them; say, if you bang the thing hard enough, it will go off. But obviously, [with] those ones, the risk is, for the terrorist, [is] that they would go off at the wrong time.
RFE/RL: Does the liquid-based explosive represent a new front in terrorist strategy?
Black: We've seen something like this before, in 1995, when a similar plot was hatched with its hub in Manila, and the idea was to blow up 11 aircraft on their way across the Pacific to the United States. The plot involved liquids, and in fact, putting the liquid explosive into a contact-lens-liquid holder. The idea didn't seem to catch on particularly or spread through the 'terrorist community, which I think is why we haven't perhaps confronted it before.
RFE/RL: What kind of new detection technology is on the horizon to cope with this threat? Until that technology is implemented, what strategies will airports use to maintain security?
Black: When we know the precise specifications of the bomb or the bombs that were designed for this particular plot, I think it's going to make it easier for us to recalibrate our systems. And in any case, regardless, new hand-baggage rules and new search procedures at airports in the meantime will be enough to ensure that -- unless we're very slack -- that these devices don't actually get on an aircraft. There is explosive-sniffing technology on the horizon, but I don't think it has been installed yet at airports.