The move came as Shi'ite pilgrims began gathering at the shrine of Imam Musa al-Kadhim in Al-Kadhimiya in northern Baghdad to mark his death in 799.
The vehicle ban announced by the Defense Ministry refers to about 11 districts around Al-Kadhimiya, on both sides of the Tigris River, from the evening of August 18 until the morning of August 21.
"It is a gift from God that we are safe to come here because of our brothers in the police, the army and the Interior Ministry," one Shi'ite pilgrim was quoted as saying.
Nearly 1,000 Shi'ite pilgrims were killed in a stampede during last year's ceremony, when a crowd heading toward the shrine was panicked by rumors of a suicide bomber. Most of the victims were women and children.
On August 18, seven pilgrims walking to Al-Kadhimiya were shot dead by gunmen in a car in the Al-Adel district of Baghdad.
(Reuters)
Sectarian Iraq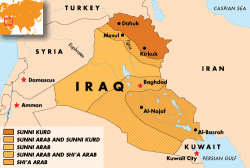 Click to enlarge the image.
SUNNI, SHI'A: Iraq is riven along sectarian lines, faults that frequently produce violent clashes and are a constant source of tension. Sectarian concerns drive much of Iraqi politics and are the main threat to the country's fragile security environment.


THE COMPLETE PICTURE: Click on the image to view RFE/RL's complete coverage of events in Iraq and that country's ongoing transition.