Police say they have shot several snipers who were firing at the crowd from rooftops.
The killings came during a massive Shi'ite religious procession, an annual ritual of grief. The pilgrims are paying tribute to Imam Musa al-Kadhim, an eighth-century Shi'ite saint. He is buried inside a shrine in north Baghdad's Al-Kadhimiyah district.
One year ago, nearly 1,000 pilgrims died when a stampede broke out over rumors that a suicide bomber was among the crowd heading toward the imam's shrine.
(compiled from agency reports)
Sectarian Iraq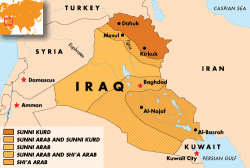 Click to enlarge the image.
SUNNI, SHI'A: Iraq is riven along sectarian lines, faults that frequently produce violent clashes and are a constant source of tension. Sectarian concerns drive much of Iraqi politics and are the main threat to the country's fragile security environment.


THE COMPLETE PICTURE: Click on the image to view RFE/RL's complete coverage of events in Iraq and that country's ongoing transition.