Presiding Judge Abdullah Ali Hussein al-Amiri read the indictment to Hussein at the opening session.
"Defendant Saddam Hussein, you have been referred to this court by the investigating magistrate to be tried on three counts: genocide, crimes against humanity, and war crimes," al-Amiri said. "Guilty or not guilty?"
Hussein refused to enter a plea, calling the tribunal a "court of occupation." The judge then entered a not-guilty plea on behalf of the former Iraqi leader.
The former Iraqi president and six other defendants are charged for their alleged roles in the 1987-88 Al-Anfal, or Spoils of War, operation. The codefendants include Hussein's cousin, Ali Hassan al-Majid, widely known as "Chemical Ali" for allegedly ordering poison-gas attacks.
Iraqi forces are accused of carrying out poison-gas attacks as part of the Al-Anfal offensives that killed an estimated 100,000 people and left entire Kurdish areas razed to the ground.
The crackdown was allegedly aimed at crushing Kurdish rebels and their supporters, whom Hussein accused of sympathizing with Iran in the Iran-Iraq war.
A verdict is expected in October in the tribunal's first trial of Hussein on charges of involvement in the killing of 148 Shi'a following a 1982 assassination attempt on Hussein in the town of Al-Dujayl.
(compiled from agency reports)
The Tragedy At Al-Dujayl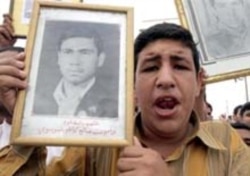 A protester in Baghdad carries a picture of a relative killed at Al-Dujayl (AFP file photo)


READ
Former Iraqi dictator
SADDAM HUSSEIN
and seven of his associates went on trial on October 19, 2005, on charges of crimes against humanity for the regime's role in the deaths of 148 residents from the town of Al-Dujayl, and the imprisonment of 1,500 others following a botched assassination attempt against Hussein there on July 8, 1982. Following the arrests and deportations, the regime leveled the town...
(more)
See also:
Al-Dujayl Native Tells Her Story
Al-Dujayl Survivor Says 'We Want The Deserved Punishment For The Guilty