Romania Launches Probe Into Politicians' Past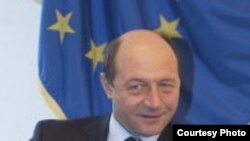 Romanian President Traian Basescu (file photo) (Courtesy Photo) August 22, 2006 -- Romanian authorities today began examining the secret, communist-era files of politicians to determine whether they collaborated with the communist security service.
Romanian President Traian Basescu says his country needs to shed light on the files before joining the European Union.
Around 70 of the politicians whose files will be published are believed to have collaborated with the Securitate.
(AP)