Their fears were realized on August 17, when Iran's prosecutor-general was quoted as saying Jahanbegloo had admitted to plotting a "velvet revolution" and apologized for his "mistakes." The method has been used in the past by the Islamic republic in order to discredit its critics.
Harvard- and Sorbonnes-educated Jahanbegloo is the most prominent intellectual to have been arrested in Iran in the past year.

A researcher on Iran for the NGO Human Rights Watch (HRW), Hadi Ghaemi, tells RFE/RL that the country's judiciary is trying to silence critics by charging Jahanbegloo with plotting against the establishment.

"The goal is to create fear among activists and intellectuals in Iran so that they know that even someone like Jahanbegloo -- who was not involved in political issues -- can be charged with instigating a velvet revolution," Ghaemi says. "They want others to be careful."

Been Seen Before

For many, Jahanbegloo's detention and his purported confessions in custody are reminders of a familiar pattern in the Islamic republic's clampdown on critics: Activists, journalists, and intellectuals are jailed and denied access to lawyers or family members. Within a few weeks or months, they issue purported letters of confession or appear on state television to confess and repent. Their crimes often include attempting to overthrow the Islamic establishment and maintaining ties with unspecified "enemies" of Iran.
"The goal is to create fear among activists and intellectuals in Iran so that they know that even someone like Jahanbegloo -- who was not involved in political issues -- can be charged with instigating a velvet revolution."


But many observers have questioned the authenticity of past confessions. And right advocates have rejected them as a farce.

Iranian activists have also come forward to expose the nature of such "confessions," drawing on their own experiences. They have said that they were forced to make false confessions under extreme duress.

Political prisoners have also claimed they were pressed into writing letters incriminating themselves or confessing to charges as dictated by their interrogators.

Speaking From Experience

One case included several online journalists who were arrested in 2004.
Weeks later, they appeared on television to say they had been encouraged by foreign enemies to tarnish Iran's image.
Five days later, in a meeting with government officials, they retracted their confessions. They said they had been made were under physical and psychological pressure.

Journalist and blogger Omid Memarian was among those who withdrew their confessions. He tells RFE/RL that confessions by prisoners under duress, and who are denied contact with the outside world, are worthless.

"Especially for intellectuals like journalists and professors, prison is very destructive -- their statements [under custody] have no weight," Memarian says. "They would say anything in order to free themselves from the conditions they are facing. In solitary confinement, individuals reach a point where they believe things can never be normal again, so they repeat whatever the interrogators say. I think that until Jahanbegloo is freed in a normal situation, whatever he says has no legal value."

'Testing' The Public

News of Jahanbegloo's "confessions" was first reported by hard-line publications, including the newspaper "Resalat."

That daily suggested in late July that a tape of the confessions was being shown in what it described as "cultural circles."

"Resalat" claimed Jahanbegloo said he was in contact with individuals in Canada and that he was on a mission to participate in a Czechoslovak-style "velvet revolution" in Iran.

Weeks later, Prosecutor-General Qorbanali Dori-Najafabadi announced in mid-August that Jahanbegloo had acknowledged his involvement in a revolutionary plot.

Some have speculated that Jahanbegloo'sconfessions might be shown on television.

A spokesman for Iran's hard-line judiciary, Jamal Karimirad, recently suggested as much to journalists.

Prosecutor-General Dori-Najafabadi then claimed that Jahanbegloo had agreed to the broadcasting of his confessions. He added cryptically that "whether they are [actually] broadcast or not is another matter."

Unintended Consequences

Journalist and former prisoner Memarian insists Iranian officials are testing the waters.

"As in past years, news of the confessions is first spread through certain circles; then they check with society to gauge reactions. Then, based on those reactions and a calculation of its pros and cons, they broadcast it. It's the same now. It seems that officials who are behind [Jahanbegloo's confessions] have not learned their lesson. The topic of coerced confessions has really lost its effect, and people don't believe it. I think it actually harms the judiciary."

Human Rights Watch's Ghaemi says he thinks broadcasting the confessions will further damage Iran and its credibility on human rights issues.

"I think there are individuals inside the Iranian [establishment] who know that these confessions do not solve any problem," Ghaemi says. "In fact, it has been proven that they are not credible and have no validity. So maybe those who think about it logically know that no one will be convinced -- it will only damage the human rights situation in Iran and the way [Iran] is viewed abroad."

Jahanbegloo's arrest has been condemned by human rights groups, who have called for his release.

The European Union and Canada have expressed concern over his fate.

Activists in Iran, the United States, Britain, and several other countries held a three-day hunger strike in July to call for the immediate release of Jahanbegloo and all of Iran's political prisoners.

Jahanbegloo is a noted scholar who has published books in several languages on issues that include modernity in Iran, and Indian independence leader Mahatma Gandhi and his teachings on nonviolent resistance. He has also interviewed prominent international figures, including the Dalai Lama.
Ramin Jahanbegloo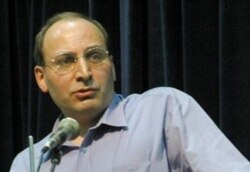 Ramin Jahanbegloo speaking in Tehran in 2004 (AFP)

THE FOURTH WAVE: In late April, it was announced that the Iranian authorities had arrested noted intellectual RAMIN JAHANBEGLOO. Jahanbegloo is a professor of philosophy in Iran and Canada and is the author of more then 20 books, including "Moje Chaharom" ("The Fourth Wave"). In November 2004, Radio Farda correspondent Fatemeh Aman interviewed Jahanbegloo about the current generation of Iranian intellectuals and its distinctive features.
Radio Farda: It seems that in your book you see a unique status and mission for the fourth generation in the process of progress and democratization in Iran. Why is that and what are the most important characteristics of this generation of intellectuals?
Ramin Jahanbegloo: The fourth generation is distinct from former ones for several reasons. First this is a democratically minded generation that cares about democratic values. This generation has a political approach toward these values and, importantly, it is heavily colored by the active presence of women. The other distinct feature of this generation is its belief in modernity. This modernity is not an imitation one, but rather is based on discourse. If in the past many thought they can become modern by imitating the Western way of life, today's intellectuals know that the real route to modernity is by understanding the modern world in the West and channeling this thought process into social, cultural, and political institutions....(more)

RELATED ARTICLES
Rights Advocate Calls Scholar's Arrest A Troubling Sign
Rights Groups Demand Scholar's Release
Iranian Activists Fear Looming Crackdown
ARCHIVE
For an archive of all of RFE/RL's coverage of Iran, click here.