The Iranian delegation arrived in Moscow as Tehran was nearing its deadline to formally respond to a package of incentives from major world powers in exchange for halting uranium-enrichment work.
The Iranians are expected today at the Kalininskaya nuclear power plant, located in the city of Udomlia between Moscow and St. Petersburg.
Planned In Advance
The high-level delegation -- led by the executive director of Iran's Atomic Energy Organization, Mahmud Jannatian -- is officially visiting in order learn about the plant's reactor operation and the training of personnel.
Kalininskaya spokeswoman Marina Karasyova said the plant is of interest to the Iranians because parts of it are similar in function to the Bushehr plant being built in southern Iran with Russia's help.
"The visit is informative," Karasyova told RFE/RL. "Last year, power generating unit No. 3 was launched in Kalinin, and the nuclear power plant in Bushehr is being built according to the same design. The visit has been planned for quite a long time. According to the rules for organizing visits to particularly dangerous sites, documents have to be prepared at least three or four weeks in advance."
The visit in itself is not surprising. Russia and Iran have long cooperated on nuclear power projects.
But the timing of the visit has stirred some interest, coming as Iran yesterday met its deadline to formally accept or decline talks on an international incentives package aimed at persuading Tehran to abandon its uranium-enrichment activities.
Iran indicated it was ready to begin "serious talks" on incentives, but did not indicate whether it would give up enrichment.
Uranium Enrichment
The United States and other countries fear that Iran could be using its civilian nuclear program as a cover to develop nuclear weapons.
Iranian Supreme Leader Ayatollah Ali Khamenei said on August 21 that Iran would pursue its nuclear program.
Iran has until August 31 to meet a UN Security Council deadline to stop enrichment activities or face the threat of international sanctions.
Against this backdrop, the visit of the Iranian nuclear delegation may raise worries among some Western powers about Russia's commitment to compelling Iran to open its nuclear program to international controls.
Russia was among the six countries offering the incentive package. The Russian Foreign Ministry said today Moscow will continue to seek a political resolution to the Iranian nuclear dispute.
Moscow Takes Its Own Course
But some observers say Russia is using the visit to emphasize to the West that it is following its own foreign policy course.
"Russia has long been carrying out its own policy on Iran, a policy that differs from that of the United States and of Europe," said Aleksandr Golts, an independent Russian military analyst. "And this is in keeping with Russia's overall foreign policy."
The delegation is expected to spend two days at the Kalininskaya plant before visiting a second reactor outside Moscow.
Russia's Nuclear Power Sector
Russia's Nuclear Power Sector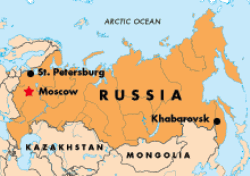 Click on the map to view the locations of Russia's civilian nuclear power plants.



POWER OF THE ATOM: As Russia's economy recovers from the collapse of the 1990s, the government is moving forward with plans to expand its nuclear-energy sector. Russia currently has 31 civilian nuclear-power reactors in operation, with the newest being Kalinin-3, which came on line in 2004. Nuclear power accounts for 16 percent of Russia's total power generation. Three additional reactors are currently under construction.
Many of Russia's reactors are quite old. In 2000, the government announced plans to extend the working lifetime of 12 first-generation reactors. So far, seven of these reactors have been upgraded for 15-year extensions and all 12 of them are expected to be replaced by 2020.
Russia controls about 4 percent of the world's known uranium deposits, producing some 2,900 tons of uranium in 2002. Russia has four operating uranium-enrichment plants, the largest of which is located at Novouralsk near Yekaterinburg.
The government has not yet approved a proposal for a permanent nuclear-waste storage facility on the Kola Peninsula.