Lebanon and Israel have welcomed the pledges, which were made at a
meeting of European Union foreign ministers in Brussels on August 25.
French Foreign Minister Philippe Douste-Blazy said during the meeting
that Europe's contribution to a Lebanon UN peace force would be between
6,500 and 7,000 troops.
UN Secretary-General Kofi Annan, who attended the meeting, hailed the
move as creating the backbone of a credible force, which could total up
to 15,000 troops.
"I am very, very encouraged by the firm commitments we have received
here at this meeting," he said. "I was very confident that Europe
wanted to assume its responsibilities and show its solidarity with the
people of Lebanon. We can now begin to put together a credible force."
Annan said he had asked France, which will contribute 2,000 troops, to
continue to lead UNIFIL until February 2007. The leadership would then
pass to Italy, which has pledged up to 3,000 soldiers.
Annan said Bangladesh, Malaysia, and Indonesia had offered to
participate in the mission, but Israel has opposed contributions from
those Muslim countries because of an absence of diplomatic relations.
Reports say Annan is expected to arrive in Beirut on August 28 for discussions with Lebanese officials.
Naval, Air Support
Speaking for the European Presidency in Brussels, Finnish Foreign
Minister Erkki Tuomioja said some countries would also provide naval
and air support.
"The substantial numbers at this stage add up to something between
5,600-6,900 of new troops in addition to those already in the field in
UNIFIL, and plus naval/sea support and other logistical support and air
support," Tuomioja said.
European countries feared getting caught in the crossfire of any fresh
hostilities between Israel and Hizballah guerrillas and wanted
assurances they would operate under robust enough rules to be able to
defend themselves.
Aside from Italy and France, diplomats at the Brussels meeting said
Spain was ready to send up to 1,200 troops. Poland said it was
prepared to contribute about 500 troops, Belgium offered up to 400, and
current EU president Finland said it was readying a company of up to
250.
Israeli Foreign Ministry spokesman Mark Regev hailed the decision,
saying that Israel "congratulates European countries" on their decision
to send the troops.
Lebanese Prime Minister Fuad Siniora called the European pledge a "positive and important" step.
Israeli Blockade Continues
Meanwhile, EU foreign-policy chief Javier Solana called on Israel to
remove the blockade of Lebanon. "It is very, very important that in
order to do this properly and do the other elements of the
reconstruction, humanitarian, that the commission is doing, that the
blockage of Lebanon is removed," he said.
Israel said it would lift its air and sea embargo of Lebanon once the
UN force takes control. The blockade is meant to stop arms getting to
Hizballah, but it also is hindering deliveries of food, fuel and other
goods.
Israel wants the beefed-up UN force to move to the border before it withdraws fully from Lebanon.
Syria is concerned at the deployment of foreign troops in Lebanon. It
was forced to withdraw its soldiers from Lebanon in 2005 under UN
pressure led by France -- and has warned it may close the border.
UN Peacekeepers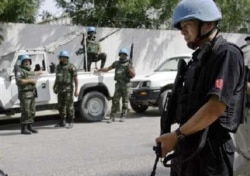 UN peacekeepers in Haiti in February 2006 (AFP)
MISSION
In cases in which international intervention in regional conflicts is deemed necessary, peacekeeping missions authorized by the UN Security Council provide legitimacy by demonstrating the commitment of the international community to address such crises.
MANDATE
UN peacekeeping missions are prepared, managed, and directed by the UN's Department of Peacekeeping Operations. The unique mandates of peacekeeping missions falls under the authority of the UN's Security Council and General Assembly, and under the command of the UN secretary-general.
MONEY
Funding for UN peacekeeping missions is provided by UN member states. All are legally obliged to pay a share under an established formula. The leading financial providers as of 2006 were: the United States, Japan, Germany, the United Kingdom, France, Italy, Canada, Spain, China, and the Netherlands.
MORE
All UN peacekeeping missions share the goals of alleviating human suffering and creating conditions for self-sustaining peace. Missions can consist of armed or unarmed military components, depending on their mandate, and various civilian tasks.
Military operations can include:
· Deploying to prevent the outbreak of conflict or the spillover of conflict across borders;
· Stabilizing conflict situations after a cease-fire in order to create an environment for the parties to reach a lasting peace agreement;
· Assisting in implementing comprehensive peace agreements;
· Leading states or territories through a transition to stable government, based on democratic principles, good governance, and economic development.
HISTORY
There have been 60 peacekeeping operations since 1948. Fifteen peacekeeping missions were in operation in mid-2006, employing more than 60,000 troops, 7,000 police, and over 2,500 military observers. Peacekeeping operations in 2006 were supported by uniformed personnel provided by 109 countries.
(source: UN Department of Peacekeeping Operations)
RELATED ARTICLES
Middle East: UN Mulls New International Force For Lebanon
Georgia: Issue Of Russian Peacekeepers Heats Up
UN: U.S. Presses For Peacekeeper Deployment To Darfur