Security sources say the bomber struck just as Interior Minister Jawad al-Bulani was due to hold a meeting with police chiefs from all of Iraq's 18 provinces.
The attack comes one day after insurgent attacks across the country killed more than 50 Iraqis.
In an interview with U.S. CNN television on August 27, Prime Minister Nuri al-Maliki denied that the violence in Iraq was increasing. He said the country was not in a civil war and that his government is making progress in combating attacks by insurgents and sectarian clashes.
Al-Maliki on August 26 won a pledge from tribal leaders to support his reconciliation plan aimed at quelling Sunni-Shi'ite sectarian strife and terrorism.
(AP, AFP)
Sectarian Iraq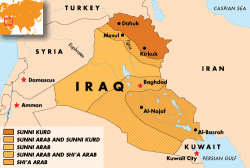 Click to enlarge the image.
SUNNI, SHI'A: Iraq is riven along sectarian lines, faults that frequently produce violent clashes and are a constant source of tension. Sectarian concerns drive much of Iraqi politics and are the main threat to the country's fragile security environment.


THE COMPLETE PICTURE: Click on the image to view RFE/RL's complete coverage of events in Iraq and that country's ongoing transition.