Although he published more than 40 novels during his life, Mahfouz is best-known for "The Cairo Trilogy" -- "Bayn al-Qasrayn" (Palace Walk), "Qasr ash-Shawq" (Palace of Desire), and "As-Sukkariyya" (Sugar Street) -- which was published in 1956-57.
He is the only Arab to ever win the Nobel Prize, which he won in 1988 for literature. In announcing its decision, the Nobel committee said Mahfouz, "through works rich in nuance...has formed an Arabian narrative art that applies to all mankind."
Iconic Figure
According to professor Roger Allen, a leading Arabic scholar who met Mahfouz in 1967 and was his friend for 39 years: "There is no Arab novelist alive today who would not say Mahfouz is the founder, and the person to whom we owe the possibility of writing [Arabic-language] novels today."
There is no Arab novelist alive today who would not say Mahfouz is the founder, and the person to whom we owe the possibility of writing [Arabic-language] novels today."
Allen has translated several of Mahfouz's books into English and published many papers on the Egyptian's author's life and writings. He heads the Department of Near Eastern Languages and Civilizations at the University of Pennsylvania.
He said Mahfouz's death will hit Egyptians very hard.
"He's an icon," Allen says. "In Egypt, he is often called the '20th-century Egyptian pyramid.' He is more respected than anybody else in Egypt, because he always speaks his mind. He is very frank. There is no way in which he is in any way unwilling to tell you what he thinks, at any point."
Opening Modern Arab World
Although Mahfouz began writing short stories and novels in the early 1930s, it wasn't until the publication of his "Cairo Trilogy," when he was 45, that he became famous.
The book had a massive impact on the modern Arab world. Allen calls it a "huge monument in modern Arabic literature" because it records a major transformation in the life of the modern Middle East.
"By that time, Egypt had gone through a revolution. Everything had changed. King Farouk [I of Egypt] had left, and [Gamal Abdel] Nassar was president, the Suez crisis had happened, the Aswan Dam was being built, it was a whole new world. It was an entirely new situation. And here comes this trilogy of three novels, covering Egyptian history from about 1916 to 1944: three volumes, all involving a single Egyptian family going through all the social, political, cultural changes happening in that interwar period," Allen says.
"The entire Arab world read that and said: 'Yes, this is the way it was, this is an incredibly accurate description of the way it was, in Cairo. Now we can see what it is we were fighting about and fighting against. And it gives a rationale for everything that's happening to us now,'" Allen notes. "So the trilogy became emblematic."
Mahfouz was known and loved for his honest and detailed portrayals of life in modern Egypt. In his stories, he explored issues like women's roles in society, political prisoners, and relations with the West from a realistic point of view previously unseen in Arabic literature.
A common theme was his characters' search for higher meaning in life.
Western Exposure
Allen says from a Western point of view, "The Cairo Trilogy" marked the arrival of the Arabic novel. He says people realized that the book was important to the Arabic world, and it was not a European import. With that, the novel became an Arabic genre.
When it was published in French in the late 1980s, it was a milestone for Arabic literature
"This was the basis of the Nobel Committee's decision in 1988 -- to award him the prize on the basis of the fact that the trilogy had been translated into French," Allen says. "It was published in 1987."
Mahfouz's prime as a novelist stretches from the mid-1940s to the early 1980s.
Allen says Mahfouz inspired an entire generation of young Arab novelists, among them Gamal al-Ghitani, who once told Allen that he memorized entire chapters of "The Cairo Trilogy" as a teenager.
Allen says his, and many others', favorite novel is "The Thief and The Dogs," published in 1961. "Adrift on the Nile" is a close second, he said.
Mahfouz's own favorite, Allen says, was another multigenerational novel, called "The Harafish."
God Is Dead
In 1994, Mahfouz survived an assassination attempt that stemmed from his novel, "Awlad Haratina" (Children of Gebelawi). The story told the history of five generations of people, all of whom follow one leader.
Mahfouz depicted his characters as followers of a monotheistic religious faith, and not only personified Islamic prophets -- considered blasphemous -- but at the end, has the character called "Knowledge" kill the character called "The Supervisor," who represents God.
Allen says the clear implication was to say, as Nietzsche did, that in the modern world, God is dead.
"Well, this novel was serialized in the Egyptian newspaper 'Al-Ahram' in 1959 and immediately caused a huge fuss," he adds. "Al-Azhar University tried to get it banned while it was being published but the government refused to stop its publication. But when it was finished in the newspaper, Mahfouz agreed with the authorities that that book could never be published in Egypt and that's remained the case."
Despite Mahfouz's realization that the book was incendiary, and the fact that it was never published in his own country, a fatwa was issued by an Egyptian cleric, Omar Abd al-Rahman. The novel was published in Lebanon in 1959.
Abd al-Rahman is now serving a life sentence in a U.S. federal prison for planning the 1993 World Trade Center bombing.
Rich Sense Of Humor
Allen says the fatwa was a dark chapter of Mahfouz's life that never affected his personality or writing. Allen spent many hours with Mahfouz on his houseboat on the Nile River, and what he remembers most is his sense of humor.
"He has one character in one novel say: 'You want to complain about politics. Think about all these flies here. I mean, they're going to demand their political rights pretty soon.' He's always full of these one-liners," Allen recalls.
"For somebody who is so world-famous, the thing that always struck me was how humble he was, how interested in meeting people."
"And you see, even now, the last time I was there -- he was 93 -- he would sit and listen while the rest of us, Gamal al-Ghitani and other novelists, would have a conversation," he continues. "Then every 10 minutes or so, we'd stop, and one of the people there would lean over right next to Naguib Mahfouz's ear, and yell at him a summary of what we just talked about. And then we'd all wait with bated breath because he'd always have a quip or a jibe or a joke, or something, in response to what he'd just been told. Always, always."
In the nearly 40 years that he knew him, Allen says Mahfouz never got bored, never stopped thinking about new things to do, or to write. He was a voracious reader and never lost his curiosity about life, although at the end, he was almost completely deaf and blind.
"For somebody who is so world-famous, the thing that always struck me was how humble he was, how interested in meeting people. He would go, every day except Saturday, when he stays at home, he would go to a different place in Cairo," Allen recalls.
"Whenever I arrived he knew exactly who I was and would always remind me that the first of his books that I translated -- a collection of short stories called 'God's World' -- he always said, 'You sent me a copy of that, and it arrived on my birthday.' He never forgot that," he adds.
Hossan Mowafi, the chief medical officer at Cairo's Police Hospital, said that after briefly responding to treatment last week, the diabetic Mahfouz had suffered a serious hemorrhage of the colon, and required a blood transfusion.
Islam In A Pluralistic World
Islam In A Pluralistic World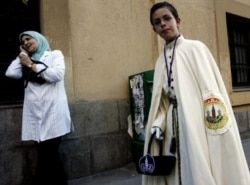 A Muslim woman (left) watches a Christian procession in Madrid in March (AFP)


READ
CONFERENCE ON ISLAM:
A major international conference on Islam concluded in Vienna in November 2005 with strong appeals from prominent Muslim leaders to recognize international terrorism as simply "terrorism." Political figures from Islamic countries, including the presidents of Iraq and Afghanistan, argued that it should never be labeled "Islamic" or "Muslim" terrorism because Islam is based on peace, dialogue, and tolerance. "Salaam" -- meaning "peace" -- was the key word of the three-day conference, titled "
ISLAM IN A PLURALISTIC WORLD
."
Iraqi President Jalal Talibani and Afghan President Hamid Karzai used the word in their remarks to emphasize the peaceful nature of Islam. Other speakers quoted passages from the Koran to the effect that all men and women, regardless of faith, are creatures of God and should live in peace with each other without discrimination
...(more)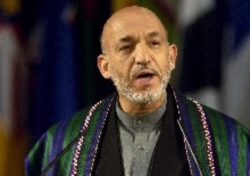 LISTEN
Listen to Afghan President
HAMID KARZAI
's complete address to the Vienna conference (in English):
Real Audio
Windows Media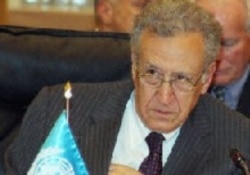 LISTEN
Listen to UN special envoy
LAKHDAR BRAHIMI
's complete address to the Vienna conference (in English):
Real Audio
Windows Media
THE COMPLETE PICTURE:
Click on the image to view a thematic webpage devoted to issues of religious tolerance in RFE/RL's broadcast region and around the globe.