Pushkin's Anniversary Takes On Political Edge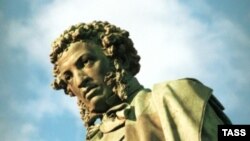 A statue in Moscow to Aleksandr Putin (ITAR-TASS) June 6, 2006 -- Lovers of Russian literature are today marking the 207th anniversary of the birth of the Russian poet Aleksandr Pushkin.
Groups of scholars and readers are gathering for commemorative and literary events in Rome and Tashkent, as well as in Russian cities.
In eastern Ukraine, the date has taken on a political tone, as the Russian-speaking Donetsk and Kharkiv regions chose to honor the Russian poet by declaring his birthday "Russian Language Day."
(Interfax, ITAR-TASS)



UPDATED CONSTANTLY: Visit RFE/RL's Russian-language website, featuring news, analysis, features, streaming audio, and more, in Russian, from RFE/RL's Russian Service.
ARCHIVE
RFE/RL's English-language
coverage of Russia
.